Truck fuel efficiency
Cut costs with fuel, driving and vehicle data
Webfleet gives you real-time insight into fuel consumption and driving behaviour like idling and cruise control engagement. This valuable information allows you to take steps to effectively slash total cost of ownership, reduce lorry fuel costs and cut carbon emissions. Find out more about fuel-ef­fi­cient trucks.
Benefit from truck fuel efficiency
Improve lorry fuel efficiency and reduce CO2 emissions
Keep your company sustainable
Key features that enable truck fuel efficiency
Real-time fuel monitoring
Improve fuel efficiency for your trucks with real-time fuel monitoring. By connecting to your truck's FMS or CAN bus1, you get clear insight into how fuel is being used on each trip. Notific­a­tions when the fuel level is low alert you to abnormal fuel loss or theft.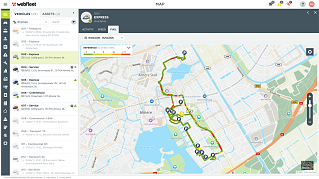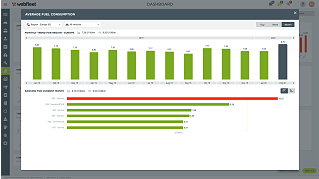 Track fuel usage over time
Real-time and historical insight into your truck's fuel consumption and emissions allows you to spot trends or anomalies. Compare performance over time on the fuel efficiency dashboard, spot exceptional events and use this insight to optimise your operating costs.
Learn more about Webfleet Reporting
Profes­sional truck navigation
Our PRO series Driver Terminals help to improve fuel efficiency for trucks, as they provide truck­-spe­cific navigation and accurate real-time traffic information. With your drivers on the most suitable routes, you avoid idling in traffic jams and driving unnecessary miles.
Learn more about profes­sional navigation and traffic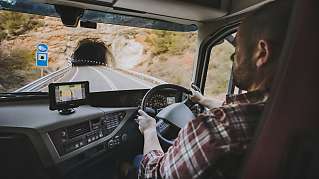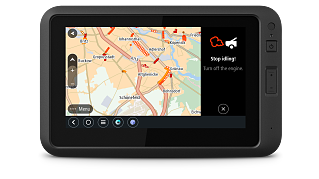 Active driving style coaching
Your drivers get in-vehicle active driving feedback and advice through our PRO Driver Terminals, helping them cut out habits that waste fuel and increase CO2 emissions.
Learn more about PRO 8475 TRUCK
Engage cruise control more often
In Webfleet, the trace on the map is coloured green where cruise control is engaged. You can also see cruise control usage in the trip report. This helps you identify drivers who require additional training in using cruise control.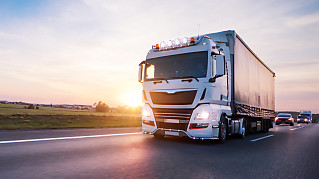 ---
All you need to know about fuel efficient trucks
What is the average fuel efficiency of trucks?

0

It depends on a couple of factors: 1. Truck size and payload and 2. What kind of environment the truck is travelling through (i.e., urban or interurban). Generally, a truck's average fuel efficiency is 30 to 40 litres of diesel for every 100km driven. Larger trucks with payloads of 23,500kg or so can consume up to 38 litres for every 100km. Smaller vehicles, and those with smaller loads, will of course use less fuel. A small truck with a payload of 16,000kg, for instance, consumes about 25 litres of diesel per 100km.
How much fuel does a lorry use per hour?

0

Factors like speed and weather conditions will determine how much fuel a lorry uses per hour. According to figures from the Department of Transport, a truck consumes 1.9 litres of fuel per hour just by idling. At a speed of 37 miles per hour, a truck uses 4.1 litres. With a speed of 56 miles per hour, a lorry will consume 8.4 litres of fuel.
What impacts truck fuel efficiency the most?

0

Driver behaviour and vehicle condition are two of the biggest influences on fuel efficiency. Idling time, cruise control, accel­er­ation and speed consistency are all in the driver's control. Webfleet's PRO Driver Terminals provide active feedback, helping drivers adopt more fuel-ef­fi­cient habits behind the wheel. A roadworthy truck is a more fuel-ef­fi­cient vehicle, so regular maintenance helps ensure that a vehicle's tyres, brakes and engine are in good working order.
Why is truck fuel efficiency important?

0

Fuel makes up a large chunk of the total cost of ownership—up to 38% for your fleet. If you're looking to cut costs (and what fleet owner or manager isn't?), fuel efficiency is key. Reducing CO2 emissions is vital, and fuel-ef­fi­cient trucks undoubtedly produce less carbon.
How do you manage fuel for trucks?

0

Digital tools that help you optimise fleet and driver performance are essential. A fleet management system like Webfleet makes it easy to track your fuel consumption in real time. Fuel efficiency is affected by road conditions and driver behaviour. With a digital fleet management system, you can keep your trucks on the best routes and glean insights on driver habits.
Your tyres are having a big impact on your truck fuel efficiency
Vehicle management
GPS tracking, fleet health monitoring and better scheduling of maintenance tasks.
Driver management
Driver identi­fic­ation, working hours and performance support, improved driving styles and increased safety.
Compliance support
A full suite of tools to help you stay compliant with tachograph and drivers' hours regulation.
Workflow optim­isation
Seamlessly communicate with your team on the road to better manage workflow and ensure you deliver on time.
How to survive and thrive in the transport sector
Find out how to handle tachograph regulation, boost productivity, increase road safety and lower fuel consumption with this handy primer.
Download the eBook
Return on investment in 6 to 9 months on average
Want to lower your running costs and improve fuel efficiency? Speak to one of our experts today.
Get free transport insights every month
Enter your email to get monthly research, guides and analysis in our Transport Insights newsletter. You can unsubscribe at any time. Please refer to our Privacy Policy for more details.