Webfleet returns as Technology Partner for the Great British EV Rally (GBEVR), supporting the 16 teams taking part on the 1200-plus mile trip from John O'Groats to Land's End. This is the second year that Webfleet has joined the GBEVR, and it follows our participation in the successful EV Rally of Scotland, or EVROS, a 1200 or so mile tour in line with the COP26 event.
In addition to supplying EV data insights, Webfleet entered a team of passionate electric vehicle (EV) enthusiasts from our UK office. Read about their learnings and experiences in completing the rally in a Nissan eNV200.
Delving into the EV data
The GBEVR team chose Webfleet, Bridgestone's globally trusted fleet management solution, to draw upon a wide range of actionable insights: charging status, energy consumption and charger connection reports. These are vital considerations when planning journeys and maximising the range of an electric vehicle.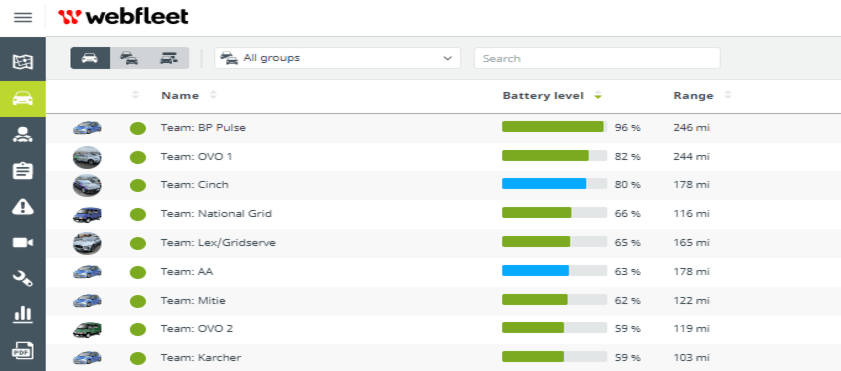 Our LINK devices were installed into lead vehicles to extract EV data and insights into how each team performed throughout the rally. By measuring Webfleet's performance and energy consumption intelligence against the benchmark WLTP (Worldwide Harmonised Light Vehicle Test Procedure) readings, comparisons could be made to identify real-world vehicle performance and driving efficiency.
EV performance data and driver behaviour data, identified through the eight performance insights in OptiDrive, were then combined. From this, a total score was generated that determined the most efficient vehicles and teams across the rally. Drivers were also able to analyse their driving behaviour after each day using the 'My driving profile' on the Logbook app, allowing them to improve their driving style as they progressed along their journey.
In the video below, UKI sales director James Dewhurst explains the importance of implementing telematics to measure efficiency and safe driving. He also explains the shared mission to move the world towards a sustainable future with data-driven mobility solutions.
Shared experiences along the way
One of our esteemed customers, OVO Energy, also participated in the rally, with more than 40 OVO drivers completing each section. Their mission to highlight the capabilities of electric vehicles and the charging infrastructure was a success. Finishing fifth on the leaderboard, the 40 OVO drivers managed an average efficiency of 4.04 miles per kW/hour, exceeding the WLTP rating of 3.9 miles per kW/hour. We caught up with OVO representative Tasha, who shared her experience and how OVO uses Webfleet:
Start your own electrification journey
Has following the Great British EV Rally inspired you to consider electrifying your fleet? Or perhaps you've already started that journey?
Get a step-by-step guide to van electrification
Download our short guide on the world of commercial van electrification.
Get the FREE guide