We're welcoming 2022 with open arms, but it's not too late to recap our achievements of last year!
2021 saw us achieve new successes. We continued to deliver and underline our position as the leading telematics solutions provider in Europe. With a focus on innovative partnerships and sustainable solutions, we launched a range of new products to further strengthen the digitisation of the transport and fleet industry.
The COVID-19 pandemic accelerated the need to digitise, with more fleets embracing telematics and new technologies in 2021. A recent study showed that 74% of commercial fleets in Europe have adopted more digital solutions since the COVID-19 pandemic started. Solutions for workflow management and order optimisation were especially popular, with a high rate of adoption in the transport industry throughout the last year.
"Our specific growth in these segments shows that customers are looking to manage orders more effectively with the possibility of dynamic dispatch and management," explains Taco van der Leij, Vice President of Webfleet Europe. "We have focused on several product developments in the transport sector to further support our customers to improve their fleet efficiency and safety."
Innovative solutions in the transport sector
The range of new products in 2021 include Webfleet Video, an integrated video telematics solution that combines dashcam event footage with driving data to give users the full context of road incidents. The CAM 50 dashcam uses artificial intelligence (AI) technology to automatically identify risky behaviour and help avoid dangerous situations.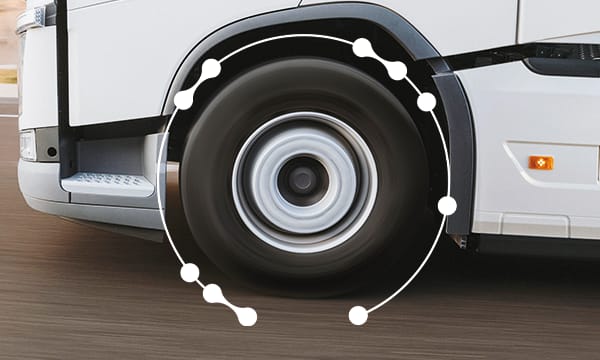 Another standout solution is Webfleet Tyre Pressure Monitoring System (TPMS). Developed jointly with Bridgestone, Webfleet TPMS continuously checks tyre pressure and temperature and alerts both the driver and the fleet manager in case of issues to help prevent accidents and costly downtime.
We also introduced our next-generation PRO Driver Terminal with Google™ Services to improve workflow efficiency, enhance customer service and boost productivity for drivers and fleet operators. Furthermore, the partnership with project44, a leading supply chain visibility solutions provider, reinforced our market leadership in connected transport solutions and offered customers additional value in shipment visibility in an easy and compliant way.
Focus on sustainability and electric vehicle solutions will continue in 2022
Sustainable solutions have been a key focus for us in the past year. We regularly introduced new electric vehicle features to support businesses throughout their entire electrification journey.
"In the last year, we have doubled our electric vehicle customer base," says Van der Leij. "2022 will be a tipping point for EV adoption, with more EV models to choose from, improved charging infrastructure and tighter government regulations. The adoption of EV software solutions will, consequently, become increasingly important as fleets look for support in making the electric transition, developing fleet charging strategies and optimising EV operations."
As well as shaping a sustainable future of mobility in our product output, we're equally committed to reducing our own carbon footprint. We have partnered with global NGO Justdiggit to offset carbon emissions from our supply chain and facilities by supporting replanting and reforestation projects in Africa. With the Green Your Fleet platform, customers can join the regreening programme and offset their fleet's emissions.
Collaborating is key for a safe and sustainable future of mobility
With new solutions, products and product integrations, we further strengthened our partnerships with innovative and traditional industry participants throughout 2021, delivering greater value to our customers. Webfleet Video is the outcome of a collaboration with leading video telematics provider Lytx. Mercedes-Benz Connectivity Services joined our OEM.connect programme, which enables original equipment manufacturers (OEMs) to provide in-depth telematics data to customers using only the vehicle identification number (VIN).
Our strong leadership position in the fleet management industry as well as our innovative solutions were recognised by consulting firm Frost & Sullivan, which named Webfleet 'European Fleet Telematics Company of the Year 2021'.
Van der Leij leaves us with these words: "We are very proud of what we have achieved in the past year, despite all the challenges that our industry is facing. We will continue to provide our customers with the data-driven insights and innovative solutions they are looking for to shape a more efficient, safe and sustainable future of mobility."
2021 was a great year indeed. Thank you to our colleagues, customers and partners for being part of it all!