React fast.
​Eliminate downtime.
Reliable road safety with 24/7 tyre control​
- WEBFLEET TPMS
React fast.
​Eliminate downtime.
Reliable road safety with 24/7 tyre control​
- WEBFLEET TPMS
WEBFLEET Tyre Pressure Monitoring System (TPMS) checks your tyre pressure and temperature in real time. With predictive tyre management, problems are detected before they lead to costly repairs or downtime. Whatever you're trans­porting – passengers or cargo – TPMS helps you ensure you get to your destination safely and on time.
Do you know?​
Poor tyre pressure management can negatively impact your finances and safety in numerous ways​​
20

%

of commercial tyres on the road are signi­fic­antly under­in­flated​
+
2

.

5

%

increase in fuel consumption can be caused when a tyre is under­-in­flated by 20%*
90

%

of tyre related breakdown are the result of slow leaks
​Detect issues before repairs or downtime are needed​
​Reduce breakdowns and service disruption
​Increase sustain­ab­ility​
‍
‍
‍
‍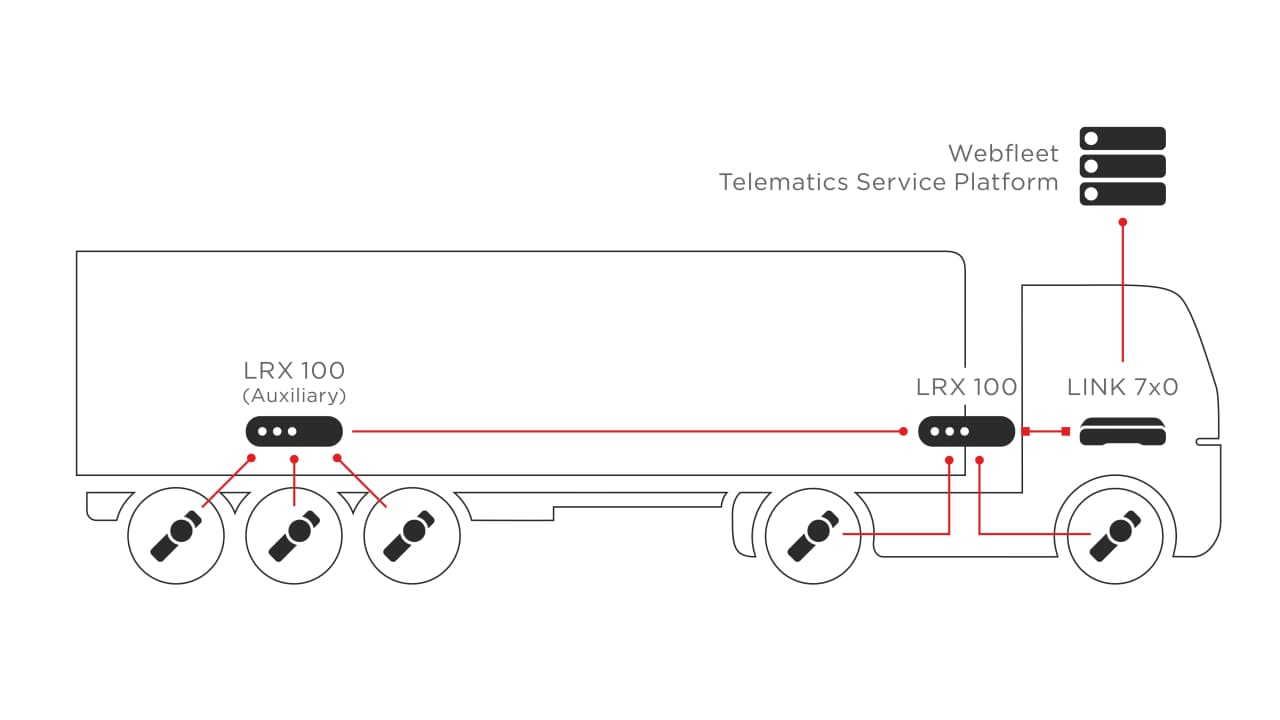 Live view of your tyres
See all your TPMS-equipped vehicles and trailers with latest tyres status1. Each vehicle or trailer tyre with an issue is colour-coded to indicate severity of issue. A clear text description explains the issue.​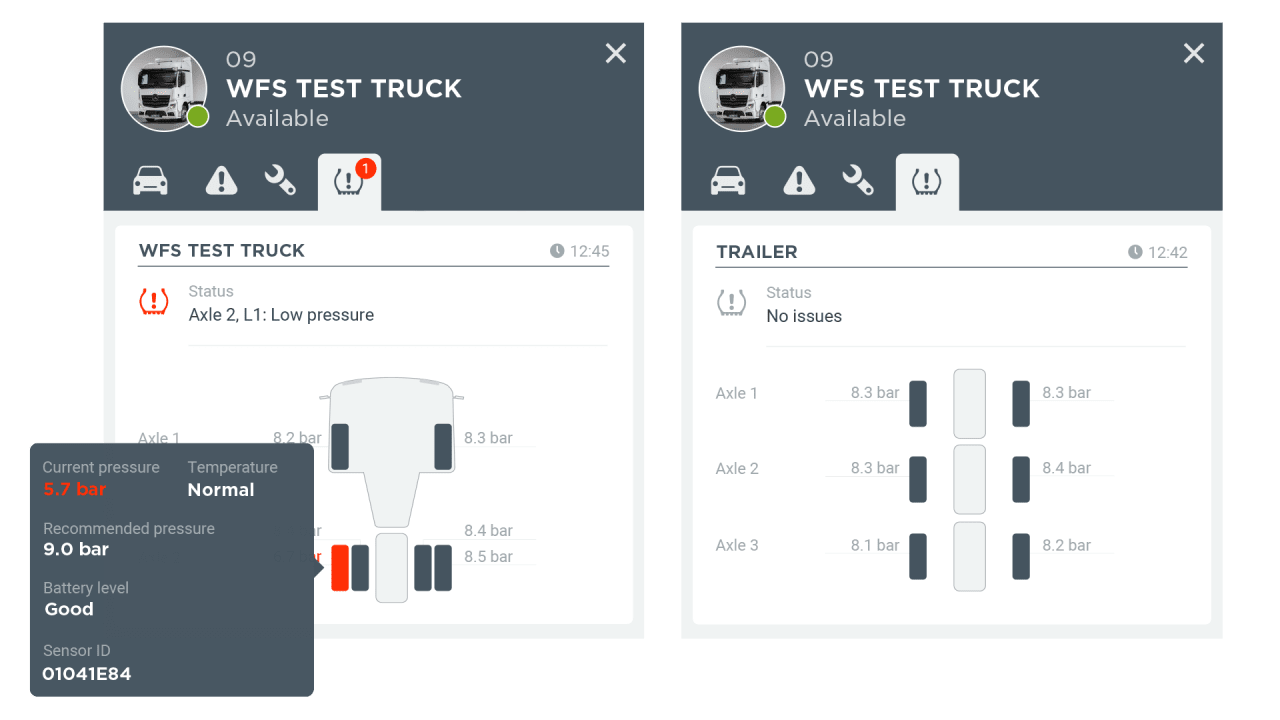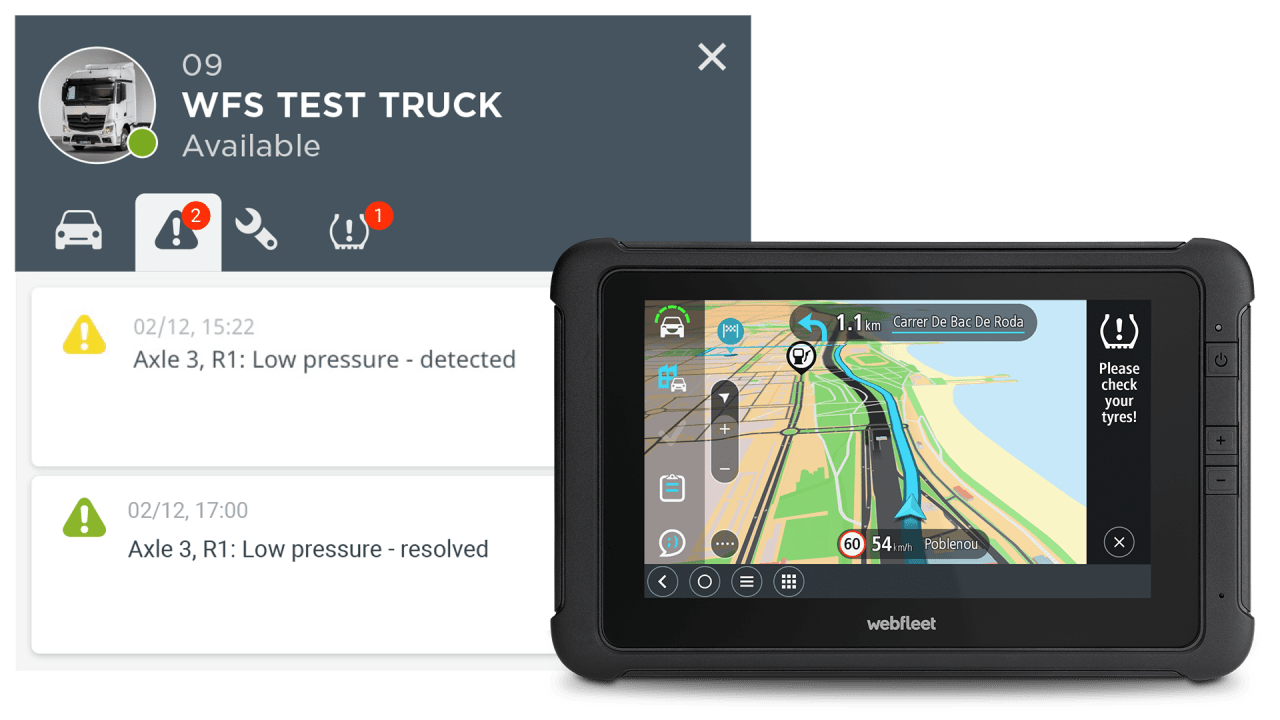 Real time notific­a­tions​
Receive a notific­ation immediately when an abnormal tyre pressure or temperature issue is detected. Drivers can also choose to be notified when there's a critical issue2.​
Identify slow leaks
90% of tyre related breakdowns are caused by slow leaks. WEBFLEET TPMS helps you spot slow pressure leaks before a driver possibly could. This reduces the risk of developing dangerously low pressure levels.​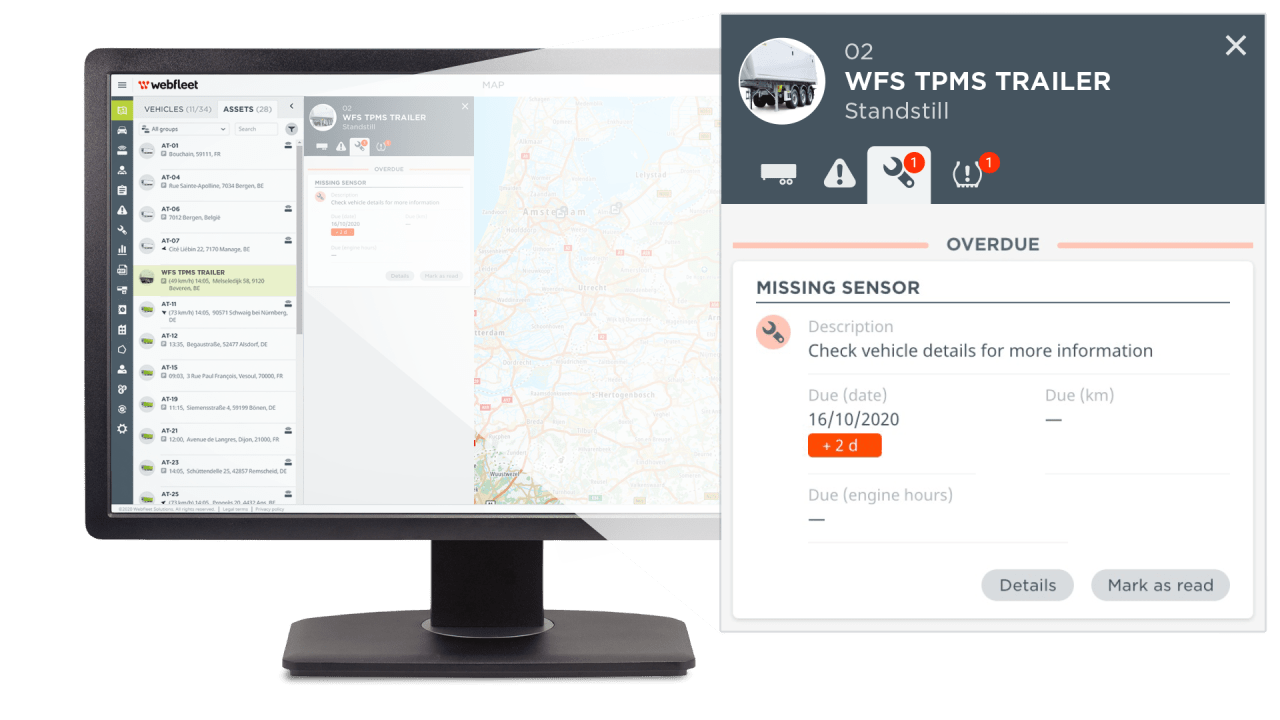 Easy sensor management
Our TPMS sensors are designed for simplified install­ation, saving hours during the install­ation and replacement process.
Meanwhile, maintenance tasks are automat­ically generated for low sensor battery and missing sensors.​
Trailer support​
If both truck and trailer are equipped with TPMS, you get the last known position of the trailer and which truck the trailer is connected to.​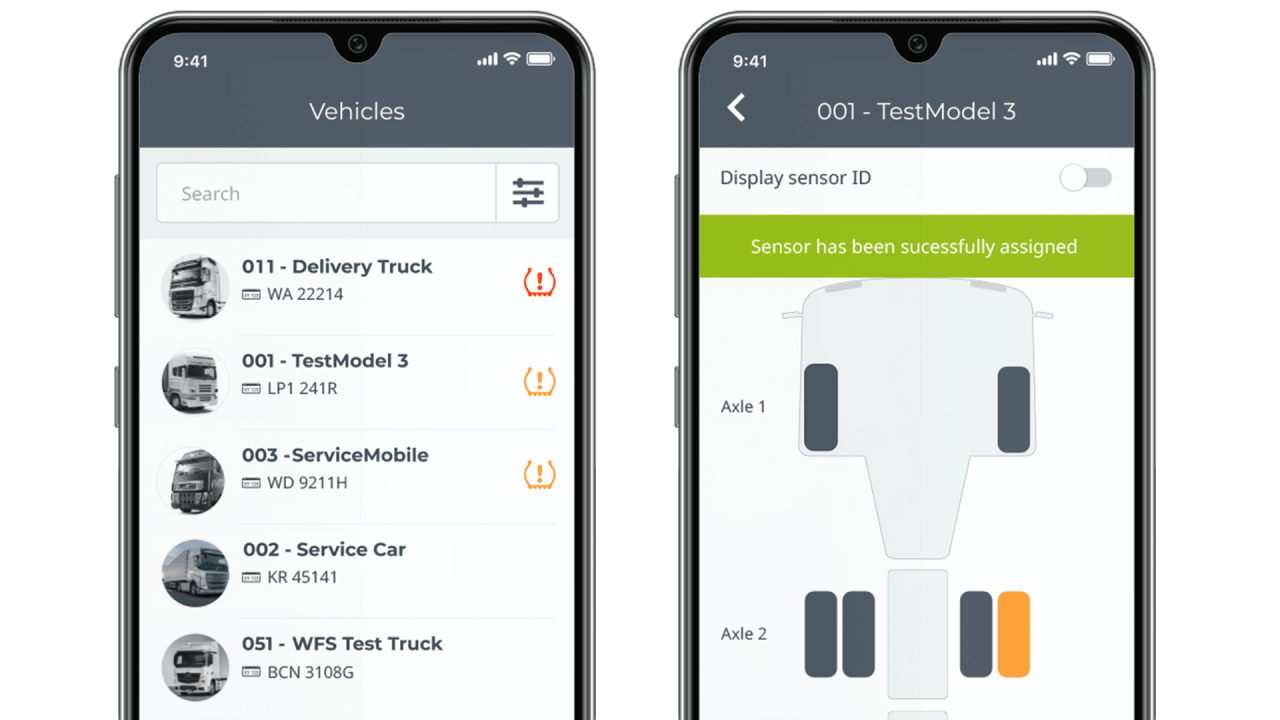 TPMS Tools app​
Our dedicated WEBFLEET TPMS Tools app is designed to be used in your workshop or by your tyre dealer, simplifying the maintenance of the TPMS system.
More vehicle data
WEBFLEET TPMS is used in combination with a vehicle tracking device. You receive all the vehicle data you need, including location, odometer and more, on one interface3.
Advanced tyre technology: What does it mean for your fleet?
Our latest eBook deep dives into the new solutions, designs and materials optimising tyre performance and the potential impact on the sustain­ab­ility, safety and cost effect­iveness of your fleet.
Download guide
Return on investment in six to nine months​
Want to prevent tyre incidents happening, keep your drivers safe and reduce your tyre costs? Request a call back from one of our experts, and find out how WEBFLEET TPMS helps you achieve it all.
* Source: Bridgestone (based on 20% under­-in­flation, the impact may vary depending on the tyre specific­a­tions)
1 WEBFLEET TPMS supports rigid bodied trucks, tract­or-trailer combin­a­tions, buses and coaches. TPMS function­ality is currently only supported for trailers when the trailer is used together with a towing tractor fitted with WEBFLEET TPMS.
2 In-cab driver alerts available for PRO 2020/7350/8375/8475.​
3 WEBFLEET TPMS is a service in addition to a WEBFLEET subscription. It is used in combination with a LINK 710/LINK 740 vehicle tracking device for data connectivity.