The COVID-19 pandemic has impacted every industry around the globe. It has forced businesses to rethink the way they operate and adapt quickly to survive. Part of these changes includes the increased need to digitise.
Fleet management wasn't exempt from these changes. So how did COVID-19 affect van fleets? What have they done to keep moving forward?
We surveyed 1,050 fleet decision-makers across Europe to understand how COVID-19 impacted the digitisation of their fleet-related activities. Our findings cover the period from when COVID-19 first reached Europe until August 2021, which is when the survey was conducted.
Key findings from our COVID-19 x digitisation survey
A total of 74% of fleets adopted more digital solutions since COVID-19 started. Nearly all these fleets—97%—agreed that doing so helped their business deal with the pandemic. Let's dive into our findings.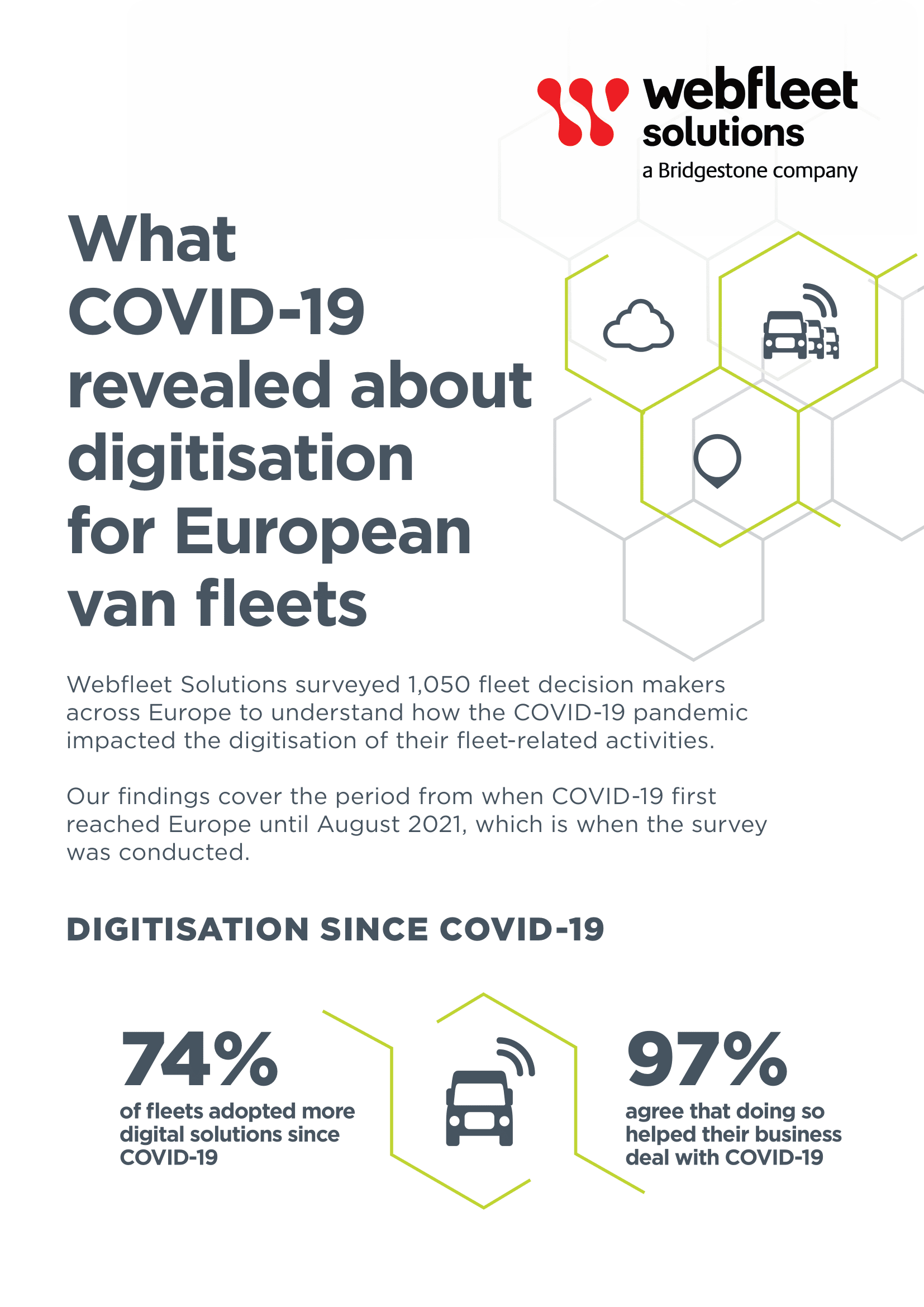 1. Digitisation is a key driver of fleet efficiency and safety
Time on the road is valuable. The biggest reason for fleets to digitise was to improve efficiency (51%). The other two top reasons were minimising physical contact (48%) and improving safety standards (41%), reflecting how fleet managers have taken precautions to reduce the spread of COVID-19.
The top three digital solutions adopted during the period were electronic signature (57%), digital documents (53%) and mobile apps (52%). This reinforces the reasons to digitise, as each solution safeguards fleets against COVID-19 and helps make them more efficient.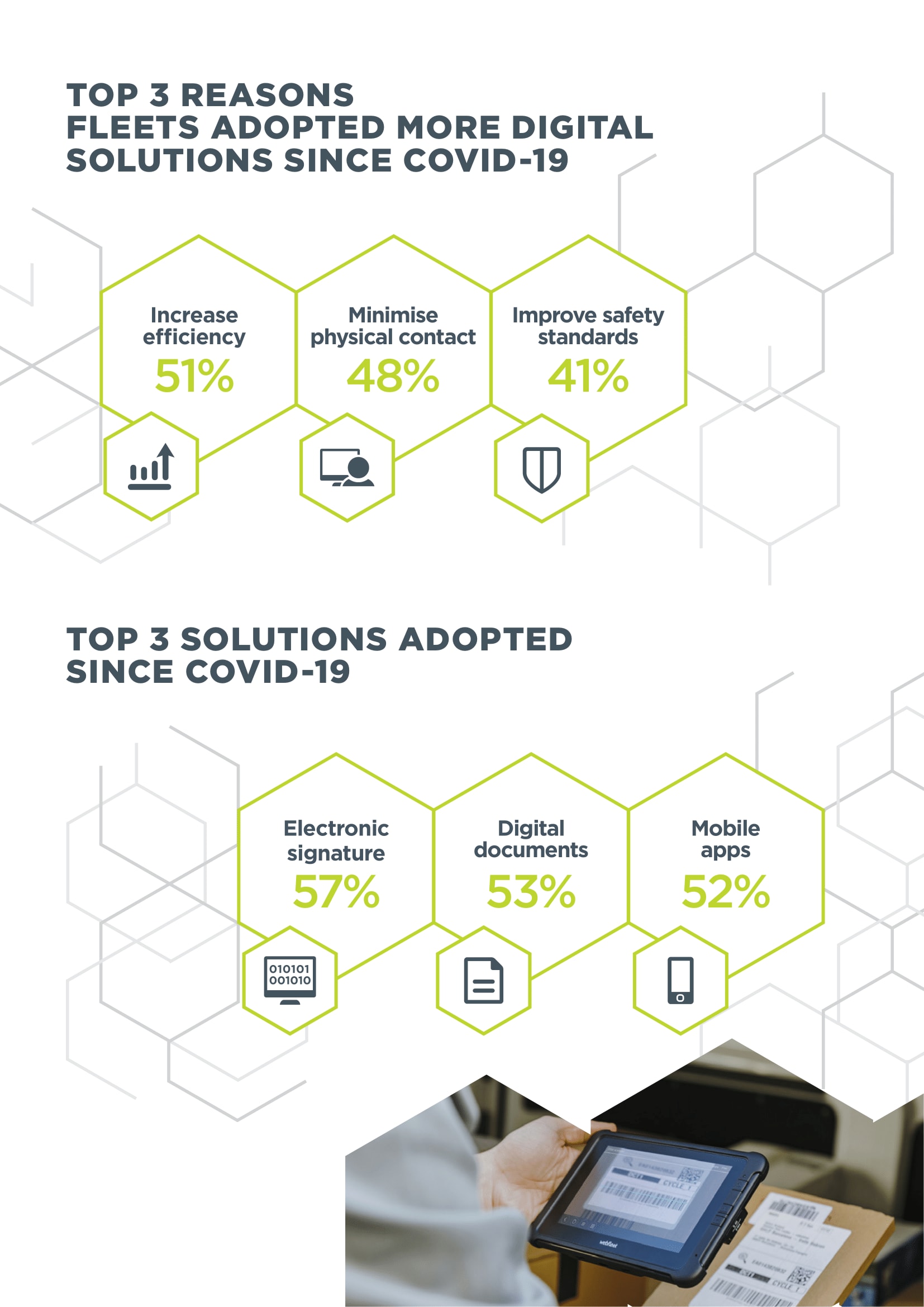 2. Digitisation can directly address the impacts of COVID-19
We asked fleet managers to share the top three ways COVID-19 impacted fleets. Fuel costs increased for 59% of fleets. 58% of fleet managers also reported increased stress levels of their drivers. The number of customers increased for 57% of fleets.
This correlates to the value that fleet managers believe can come from digitisation. The leading benefit was increased customer satisfaction (82%). Coming in second place was improving driver wellbeing (74%) while reducing vehicle costs was the third-biggest advantage (68%).
3. Fleets should not let cost hold them back from investing in digital solutions
More than a quarter (26%) of the fleets we surveyed didn't adopt more digital solutions. Of that number, 30% cited cost as the main reason holding them back. 28% said they already use enough digital solutions, while 24% didn't have enough time or resources to implement a fleet management solution.
Although the initial cost of a solution matters, it's also important to consider the potential savings. More than a third (34%) of fleet managers said that they adopted more digital solutions to save money in the long run. Webfleet helps fleets cut fuel wastage, lower maintenance costs and stay productive. Although cost is the biggest barrier to adopting digital fleet management solutions, Webfleet gives a return on investment in six to nine months on average.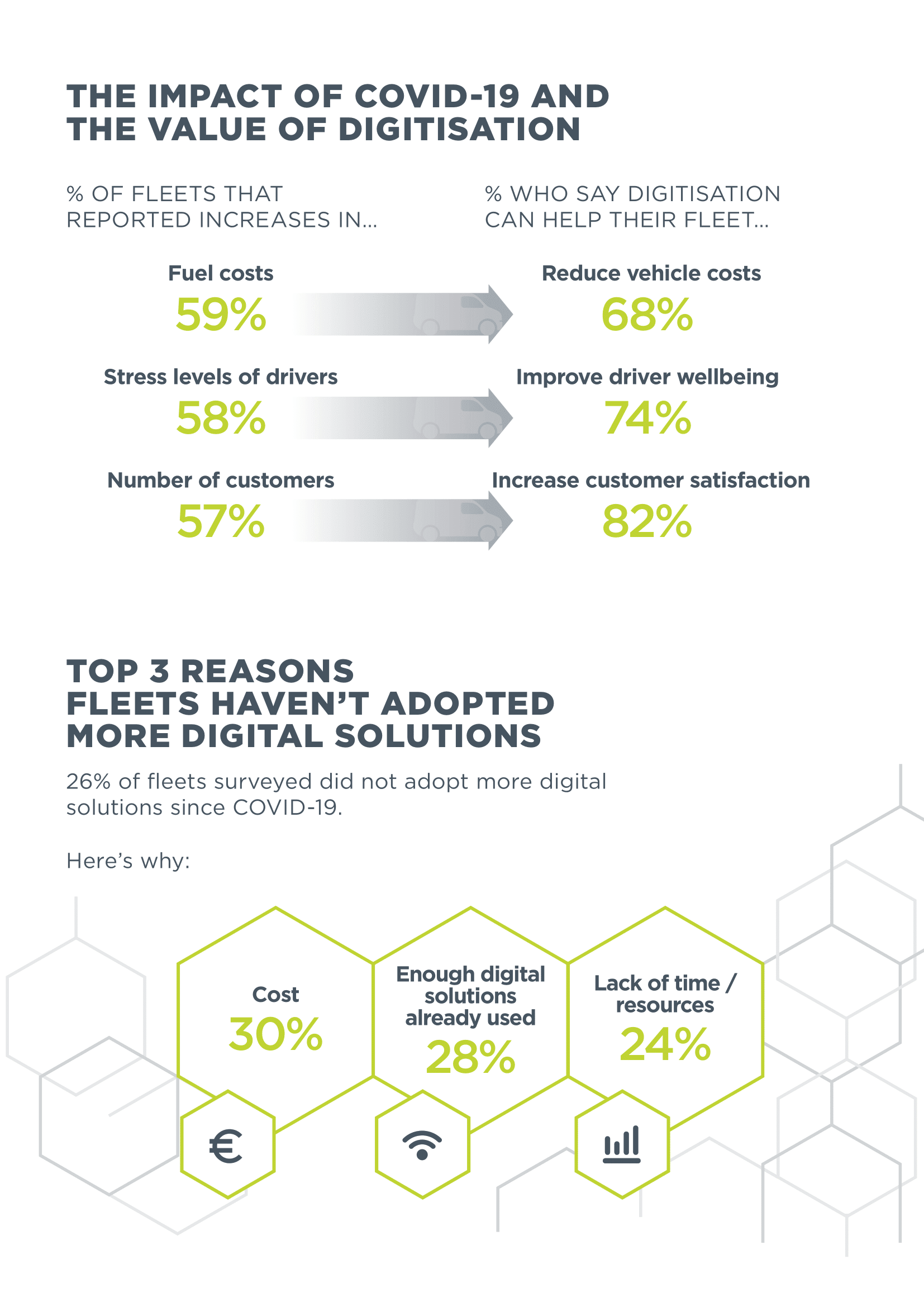 Furthermore, with the momentum towards transport decarbonisation gathering pace, the return on investment in fleet management technology should also be considered through the lens of an electric fleet's TCO.
While 39% of UK fleet decision-makers cited sustainability concerns as their biggest reason for transitioning to electric vehicles (EVs), this was closely followed by fuel cost savings (34%).
Digital solutions and the data insights they impart, however, not only hold the key to improving EVs' kWh per mile, they have a vital role to play in delivering bottom-line savings across the board. This ranges from improving the service, maintenance and repair (SMR) management of EVs and minimising costly downtime to enabling cost-effective charging strategies.
4. Smaller fleets have a lot to gain from digital solutions
According to our survey, only 59% of fleets with 1-10 vehicles adopted new digital solutions since COVID-19. Larger fleets of 51+ vehicles were more likely to invest in digitisation (81%+).
But that doesn't mean digitisation isn't right for smaller fleets. Webfleet offers customisable solutions for every fleet size. Our solutions for small and medium-sized businesses can boost efficiency, cut costs, support drivers and improve vehicle performance.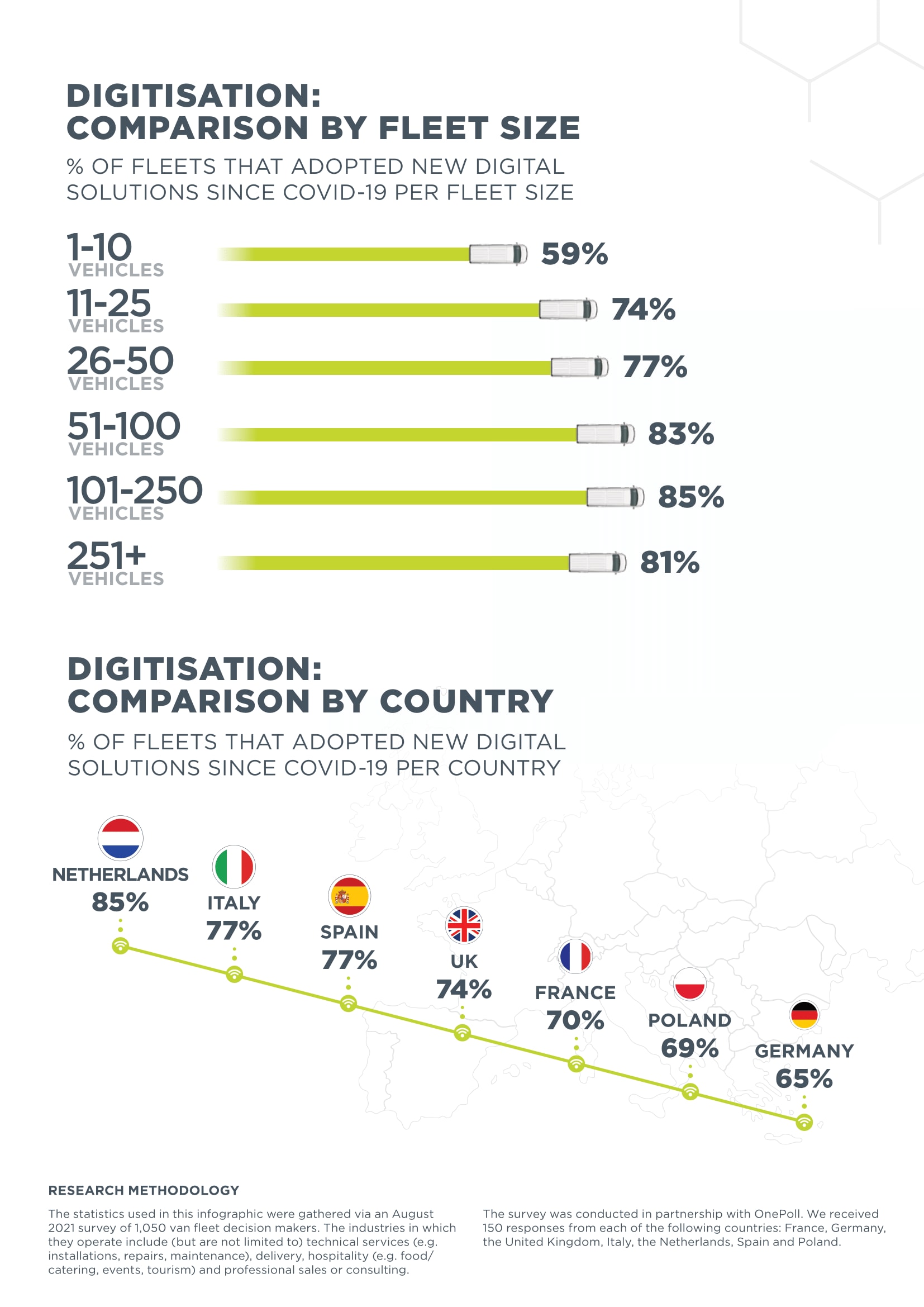 Other findings
The Netherlands led the digitisation trend, with 85% adopting new digital solutions over the period. In contrast, only 65% of fleets in Germany adopted new digital solutions. This doesn't necessarily mean that German fleets have mainly manual operations, though. When compared to other countries, Germany had the highest proportion of fleets with automated digital systems to manage their daily jobs.
Infographic: Digitisation and your van fleet
Digitisation has helped many fleets deal with the challenges that COVID-19 has presented. For a complete overview of our findings, download the full COVID-19 x digitisation infographic here.
Interested in what digitisation can do for your fleet? Get started today! Find out how companies like yours are digitising the workflow.