Discover the latest in future transport technology with our Tech in 10 series. We explore five predictions about the future of transport, from autonomous robots and trucks to advanced tyre technology. This star-gazing series is set to get your mind racing. Therefore, sit back and enjoy a 10-minute break while you read what the future has to offer.
What is Tech in 10?
Tech in 10 is a six-part eBook series designed to get you thinking about the exciting developments of the future. In this article, we cover an overview of each future prediction from robots to Artificial Intelligence (AI). If the content below peaks your interest, you can download our Tech in 10 ebook series to discover more. Now let's dive into the predictions.
Prediction one: The Robots are coming

What's happening?
The prospect of drones and autonomous robots dropping off deliveries has now become very real. Tech developments are currently outpacing expectations.
The UK Civil Aviation Authority has approved delivery drone trials for flights 'beyond the line of sight of pilots'.
Alternatives currently being trialled include:
– eCargo bikes with 20 per cent capacity of a typical short wheelbase van.
– A national network of tunnels and tubes carrying cargo pods.
Where is it happening?
From grocery delivery droids in Milton Keynes to Amazon's Scout robots in California.
Who is using it?
Royal Mail, UPS, DHL, Amazon and Google are all testing delivery drone prototypes.
Why should I care about this transport technology?
Automating last-mile deliveries will reduce CO2 emissions, air pollution and traffic congestion, as well as, cut costs.
How could it help me?
Innovations will have a significant impact on the bottom line of some transport businesses. Consequently, reducing delivery costs by up to 40 per cent.
What could hinder progress for future transport technology?
Technological challenges, from urban landing space restrictions to power and payload limitations.
Also, new government regulatory frameworks to meet the highest possible safety and security standards. However, they're sure to be less complex than those required for autonomous passenger vehicles.
Prediction two: Self-driving trucks could hit the road in less than 12 months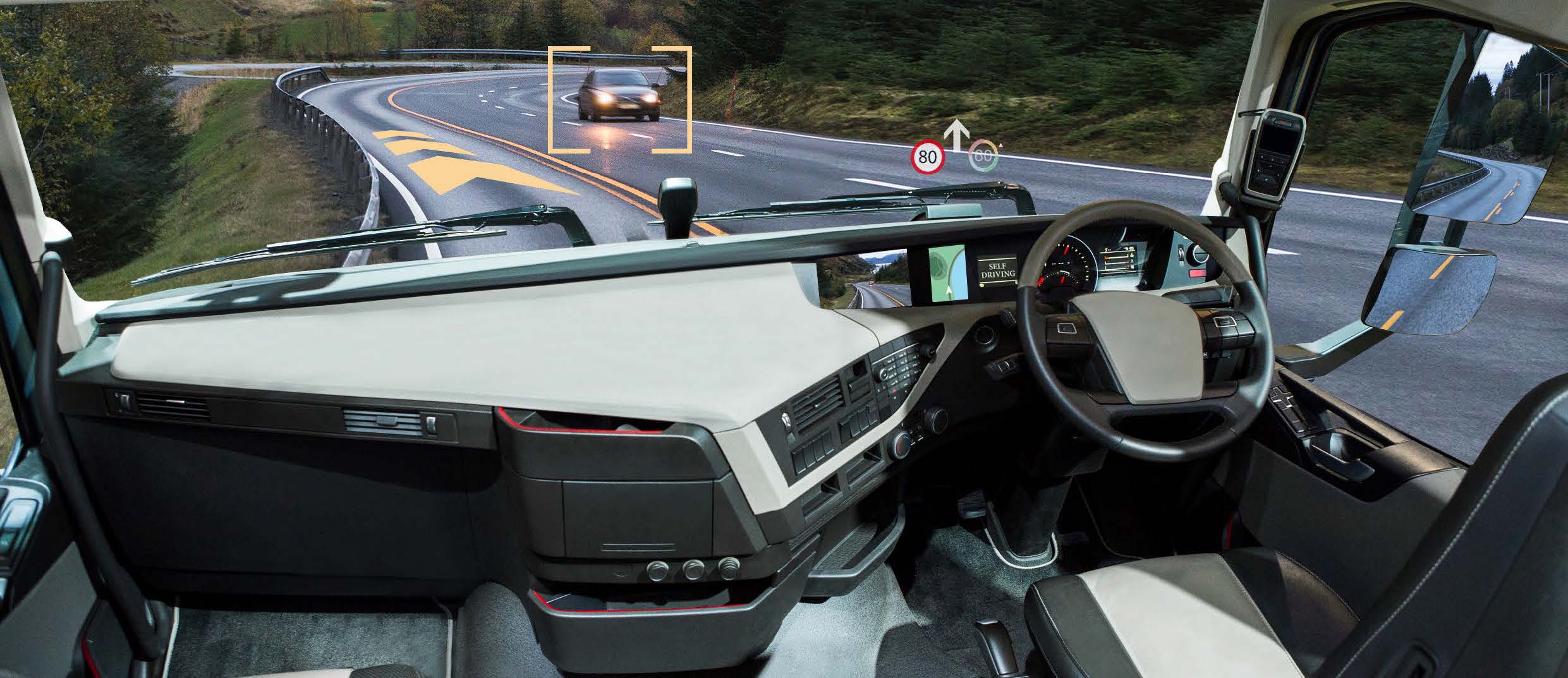 What's happening?
The trucking sector is on the cusp of a seismic change when it comes to the latest developments in transport technology. The autonomous truck is well within reach and many tech companies and truck manufacturers are already reporting significant progress.
Autonomous trucks will operate on a variety of smart sensors that feed data to a centralised network. Connected data will allow communication between other trucks in the logistics network.
Who is leading the way?
Californian driverless truck tech company TuSimple recently hauled fresh watermelons 951 miles from Arizona to Oklahoma City. The job, which normally takes over 24 hours, took just 14 hours and six minutes.
How will trucking tech pave the way for future transport technology?
Multiple HD cameras look up to 1,000 metres ahead, providing approximately twice the vision of the average professional truck driver. Therefore, the trajectories of vehicles will be detected and calculated from an increased distance.
LiDAR infrared sensors will use the time between the output laser pulse and the reflected pulse to calculate the distance to objects based on the speed of light. Therefore, millions of precise distance points are captured each second, helping to form a 3D matrix of the environment 360⁰ around a vehicle to drive down accident rates.
Automated tyre pressure monitoring systems will feed real-time information to a fleet manager, allowing them to remotely redirect trucks to the nearest depot. This in turn helps to reduce downtime and improve productivity.
Platooning tech will connect trucks, allowing them to:
– Automatically, and closely, follow a lead vehicle using Vehicle-to-Vehicle (V2V) communications
– Radar-based active braking
– Adaptive cruise control
– Lane departure assist technology
Whilst semiautomatic platooning is already in motion, fully-automated journeys are now on the horizon.
Truck platooning is currently being trialled by Peloton Technology in the United States and by both Volvo Trucks and Scania Trucks in Europe.
How could platooning benefit me?
The European Automobile Manufacturers' Association predicts that platooning could reduce CO2 emissions of trailing vehicles by up to 16 per cent and of lead convoy vehicles by 8 per cent.
Prediction three: Battery electric will beat hydrogen for long-haul zero-emission trucking

What's happening?
The zero-emissions race for vans and trucks has become a tale of two horses – battery-electric versus hydrogen.
Who's leading the way with electric HGV's?
Volvo Trucks has an impressive line-up of electric HGVs. These can cover 45 per cent of all goods transported across Europe, but their heavy-duty trucks still max out at 186 miles.
How are batteries getting better?
Battery life has increased through the use of more energy-dense nickel for cathodes, while metallurgical-grade silicon in battery anodes is also cutting costs. Solid-state batteries, the next big thing in transport technology, replace the solvent liquid electrolyte with solid material, lowering cost, increasing range and cutting charge times.
Who is powering battery developments?
Tesla's tabless battery for trucks promises to provide five times more energy and six times more power than current models. Elon Musk aims to deliver a heavy-duty truck that could cover 1,000km, or 621 miles, on a single charge.
Moreover, Volkswagen-backed Californian start-up QuantumScape's lithium-metal solid-state battery can enable up to 80 per cent longer range and will charge to 80 per cent capacity in just 15 minutes.
What about hydrogen-powered trucks?
Hydrogen-powered trucks are fuelled with either liquid or gaseous hydrogen. It uses fuel cells to convert hydrogen, and oxygen from the air, to heat, water and electricity.
Hydrogen offers a greater range than lithium-ion batteries. Therefore, making it quicker and easier to process and is more akin to fuelling a diesel truck.
When could we see hydrogen trucks on our roads?
On the other hand, hydrogen fuel cells are expensive to manufacture. A huge investment in hydrogen production and infrastructure is required to make it a viable option.
Furthermore, an industry alliance backed by Daimler Truck, Iveco, OMV, Shell and the Volvo Group is estimating that mass market roll-out will take about a decade.
Prediction four: Connected vehicle tech and AI will make our roads safer (and enhance the driving experience)

What's happening for safety in future transport technology?
From in-cab intelligent cameras to long-range radar, transport safety technology will evolve from perceiving potential danger to predicting hazards ahead. Consequently, protecting drivers' safety and setting us all on the road to a safer future.
What's already out there?
Firstly, advanced driver assistance systems features like adaptive cruise control, active steering and lane assistance are all already improving road safety.
Furthermore, driver-facing cameras and video telematics instantly alert drivers to potentially risky behaviour like distracted driving and mobile phone usage. Introducing this feature reminds the driver to remain safe behind the wheel.
What's up ahead?
There are multiple developments up ahead when it comes to safety in transport technology. First of all, we have Perception technology. Camera and sensor technology work in tandem to detect and recognise objects beyond the human line of sight to anticipate risks. Furthermore, allowing vehicles to 'look' in all directions not just around and inside the vehicle.
Secondly, there is Pedestrian intention prediction. Researchers are currently developing AI systems, called neural networks, that predict a pedestrian's intention to cross a road via cues such as head turning, body pose and gait.
Thirdly, there are driver drowsiness alerts. These alerts monitor real-time driver behaviour such as eye movement, head tilts, yawning, facial feature movement, brain waves (EEG) and steering wheel grip via driver-facing cameras.
Finally, Tyre Damage Monitoring Systems. Autonomous vehicles use tyre damage monitoring systems to pass information about local hazards to others in the vicinity, as well as cloud data stores.
Why should I care?
Evolving vehicle safety technology will help fleet operators to mitigate the frequency and cost of crashes. It will also assist in avoiding false insurance claims and positively impact vehicle downtime through minimised damage and reduced repair times.
Prediction five: Tyres will be thinner, air-free and even more connected

How will tyre tech answer future mobility challenges?
Innovative tyre tech is indispensable for future transport technology. The driverless commercial vehicles of the future will need to move both people and goods round the clock. Vehicles will always be operating and experience high loads, putting continuous pressure on tyres.
1. Tyres will be thinner but with a higher load capacity
Tyres engineered for autonomous electric vehicles will provide higher load carrying capacity in a larger diameter and narrower width. This will allow vehicle platforms to maximize cargo space without compromising performance.
2. Tyres will go air free
Manufacturers are working on unique flexible spokes housed within the tyre envelope to hold up the tyre, instead of air.
3. Air Pressure adjustment will be automated
Any remaining pneumatic tyres will always operate at peak performance and efficiency. Therefore, the air pressure will be automatically monitored and adjusted as conditions change.
4. Tyres will be connected with sensors
Tyres in the future will be digitally connected with specialised sensors automatically predicting precisely when preventive maintenance is required.
5. The whole tyre supplier network will be connected
A global service network will digitally connect tyres, vehicles and fleets to provide information, advice and delivery of services that work together.
Tech in 10 eBook series available to download now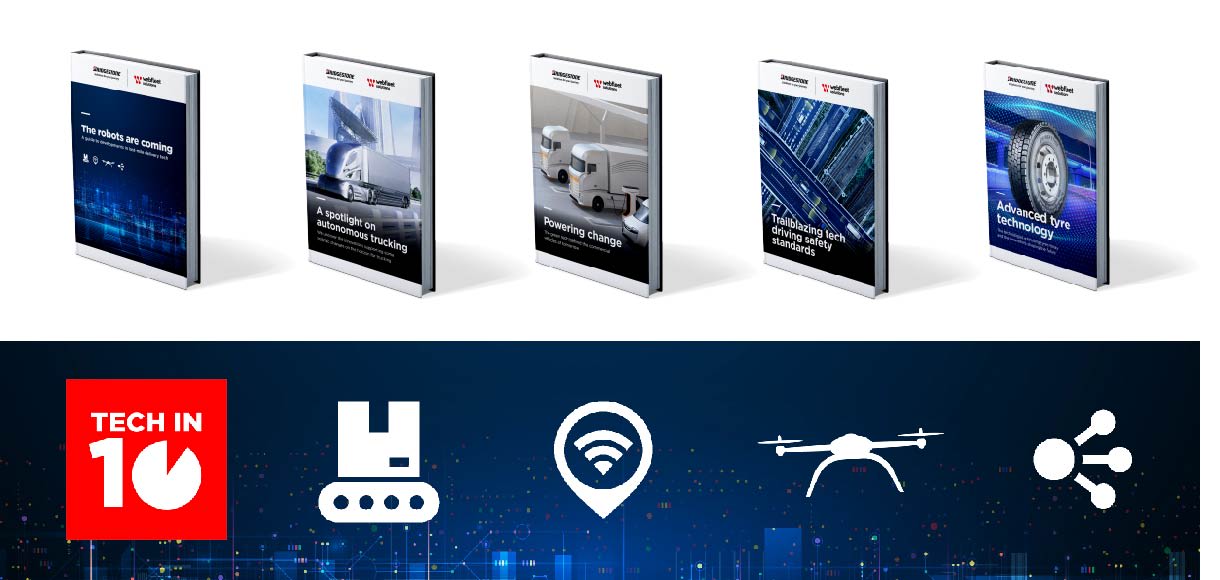 Looking to delve into more detail on a specific prediction? Or perhaps you are keen to learn more about what the future of transport technology may hold? Follow this link to access the full range of Tech in 10 eBooks.