Connected car for car importers / dealer groups
More insights. More loyalty.
It's not only drivers who can benefit from the incredible power of the connected car. The future is now – importers can use connected technology to help transform their service offering, boost sales and improve brand loyalty.​
The market is more demanding than ever but you can tackle the key challenges and gain a competitive edge with the help of insights provided by vehicle data.
Proactive maintenance
Proactive maintenance powered by live vehicle maintenance data: warn customers in advance about potential problems and increase oppor­tun­ities for parts sales.​
Customer service
Your vehicles have the ability to be connected, which means you have the opportunity to connect to the car owner, allowing you to build a relationship also when the vehicle is sold.​​
Tailored maintenance
Develop intel­li­gence from aggregated vehicle data to tailor maintenance and improve future product offerings.​
New insights for drivers
Provide customers with a world of new function­ality through apps that give them previously unseen insights into their vehicles and driving performance.​
Big data for big improve­ments​
Decisions are only as good as the information they are based on. That's why our connected car services allow the seamless flow of data from the vehicle to your systems.​
All the important data you need is processed by our service platform and its open API allows easy integration with existing CRM and ERP software to enrich customer profiles and enable new levels of insight.​
NEXTFLEET
Rich, easy-to-use function­ality that includes reporting, vehicle and maintenance management and more.​

Access or seamlessly integrate telematics data into your core back-office systems.

Smart, user-friendly interface​.
Learn more about NEXTFLEET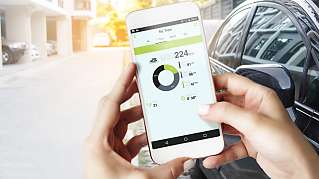 Drivers apps
Practical features such as a car finder, logbook and vehicle status information.

But also function­al­ities that make life so much easier for drivers, like trip data and driver performance feedback.
Learn more about our drivers apps
Request callback
Discover how connected car can benefit your business.