‍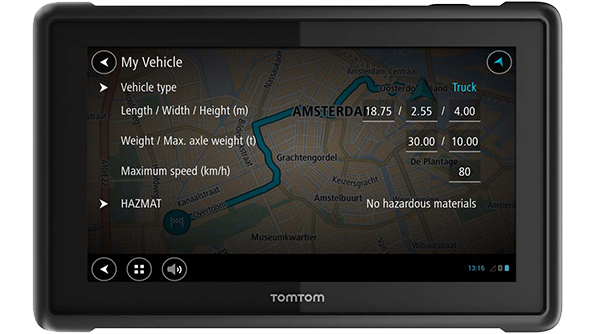 GPS navigation device with truck­-spe­cific routing, POIs and access restric­tions
‍
Always know your trucks fit the road
Customised routing technology takes into account your vehicle type, size, weight, cargo and speed. Never worry when going under a low bridge!
Spend less time on the road
Profes­sional navigation helps your drivers avoid traffic and provides accurate ETAs.
Avoid costs with speed camera alerts
Locations are shown of fixed, mobile and average speed cameras so your drivers can stay within the speed limit.1
Always drive the fastest route.
TomTom's navigation technology is equipped with a database of real driving times to calculate the fastest route.
No delays due to closed roads
Auto recognition of closed roads means you can plan around them.
Extremely accurate traffic information
TomTom Traffic is so accuare, it alerts drivers to tail jams to prevent them from braking suddenly.
Accurate traffic info
Trillions of data points collected from hundreds of millions of connected devices combine with live traffic views to accurately predict traffic.1 Your drivers can be alerted to oncoming jams to stop them having to brake harshly as they approach.
No delay from closed roads
Traffic is not the only obstacle Profes­sional Navigation helps you avoid. The TomTom PRO 8275 in-cab device recognises closed roads and plans around them.
Fast routes
Our navigation technology is equipped with a database of real driving times. This helps calculate the fastest route to your destination, wherever you want to go and whenever you need to get there. Alongside traffic, it also factors in traffic lights, roundabouts and other factors that can delay your arrival.
More time with customers
By taking the most efficient routes, your workforce can spend less time on the road and more time with customers. Your customer will also be happy with our best-in-class ETAs, while quicker journey times help lower your fuel costs.
Truck­-spe­cific navigation
Do you have large vehicles in your fleet? Our solution factors in vehicle type, size, weight, cargo and speed before creating your route. It will keep your truck away from low bridges, sharp bends and other unsuitable spots.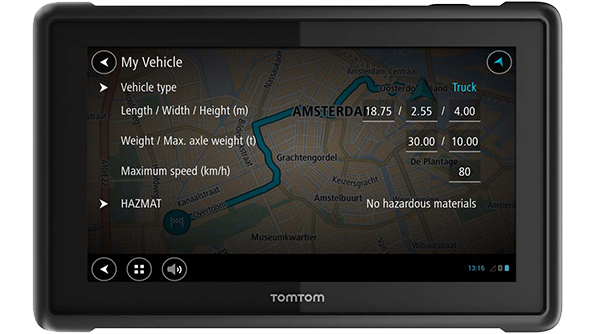 Speed cameras1
Speed cameras are a valuable aid in safer driving and traffic regulation. The locations of fixed and mobile speed cameras are shown on your in-car device, to help your drivers regularly check their speed and maintain a safe driving style.
Our awards and certi­ficates
Stay safe without delay
Best-in-class navigation technology for your vehicles.
Terms and Conditions apply​
1
Your device comes with regular software and fixed speed camera updates and seasonal (four times per year) updates for maps. To download these updates you need an active internet connection via Wi-Fi® or a computer with access to the internet. Your device also comes with regular traffic and speed camera services. To receive these services, your device needs to be smart­phone-con­nected or equipped with a SIM including data. The speed camera services may be prohibited in some countries and should only be used in compliance with local legislation. Speed cameras are not available in Germany, Switzerland and France. In France, you can only access Danger Zones.
The device doesn't include SIM card.