Fleet safety
Contribute to a culture of road safety across your fleet
Fleet safety
Contribute to a culture of road safety across your fleet
Help improve safety for your fleet drivers, your vehicles and everyone on the road. Keep drivers on the safest routes with profes­sional navigation. Track fleet safety benchmarks, like driver behaviour and vehicle maintenance. Prevent accidents and avoid false claims with fleet dashcams. Find out everything you need to knowabout fleet safety management here.
---
Explore our fleet safety solutions
Boost fleet safety with Webfleet
Improve road safety
For everyone sharing the road
Protect your fleet
From false insurance claims
Avoid accidents
And reduce unexpected events
Support driver well-being
Ensure all drivers are in a suitable condition
Provide active driver coaching
To promote safe driving behavior
Stay on top of vehicle maintenance
To prevent unplanned downtime
Key features of fleet safety
Real-time visibility
Maintain a safe fleet with Webfleet Video, which integrates dashcam footage with driving data so you can get the full context of road incidents. Our dashcam uses AI technology to identify distracted driving, with real-time notifi­ca­tions for drivers to adjust their behavior. Pull evidence against false claims with on-demand video to protect your drivers.
Learn more about Webfleet Video⁠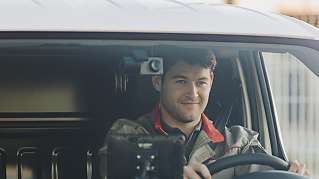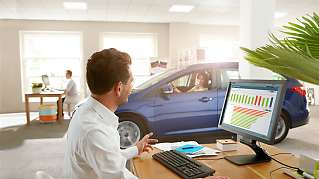 Insights on driving behavior
Drivers can find support in OptiDrive 360, which provides feedback on driving performance before, during, and after trips. OptiDrive 360 also helps fleet managers to monitor risky habits, like speeding and harsh braking, and to decide if additional training or coaching would benefit drivers.
Learn more about OptiDrive 360⁠
Automated maintenance
Roadworthy vehicles are undoubtedly safer vehicles. Plan maintenance and service tasks based on real-time mileage, engine hours, or time. When used with our vehicle tracking devices, Webfleet alerts you about safety issues, from engine problems to accidents. Save time on vehicle inspection with the Vehicle Check app.
Learn more about vehicle maintenance and Webfleet Vehicle Check
---
All you need to know about fleet safety
Jump to content

Fleet safety is about improving road safety, supporting driver well-being, and securing fleet assets. Fleets that are serious about safety will develop, carry out, and measure a fleet safety strategy. A compre­hensive strategy will typically include actions around driver training, vehicle maintenance, job planning/routing, asset security, and video telematics.
Why is fleet safety important?

0

Jump to content

Heavy trucks share public roads with car drivers. So, fleets play an important role in contributing to road safety. By imple­menting safety programs, fleets can help prevent accidents and reduce business downtime. A good fleet safety record will lead to lower insurance costs and better fleet operations. Asset security buffers fleets from load theft, helping them stay in great standing with their customers.
How can Webfleet improve fleet safety?

0

Jump to content

Webfleet can help improve fleet safety in several ways. For one, our fleet dashcam provides the full context of a road incident and protects drivers against incorrect claims. Managing driver well-being is another way to improve fleet safety. Our ELD compliance solution ensures drivers comply with working hours regulations and take the breaks they need.
What solutions does Webfleet offer to monitor fleet safety?

0

Jump to content

Webfleet's monitoring solutions can help improve fleet safety. Fleets use our profes­sional navigation devices to ensure drivers travel the safest roads. Our fleet dashcam is equipped with AI technology, which also identifies distracted driving. Our Vehicle Check app streamlines daily vehicle inspections for fleet managers and drivers.
Which businesses benefit from fleet safety?

0

Jump to content

Any business that operates a fleet will benefit from fleet safety management. A few examples would be transport and logistics companies, fleets that provide last-mile deliveries, and hourly service providers like construction and plumbing businesses.
Get a demo
See how Webfleet can help your business.