Monitor your fleet worldwide via satellite
Stay connected 24/7

Worldwide satellite coverage

Round-the-clock vehicle tracking
Does your fleet constantly run into areas beyond cellular coverage? Webfleet SAT keeps your vehicles connected with global satellite coverage powered by Iridium® Satellite Network. Rest assured, you'll have the reliable connection needed for round-the-clock vehicle tracking.
Stay connected 24/7
Stay connected to your fleet beyond cellular coverage
Reliable tracking in remote areas
Know your drivers' whereabouts
End-to-end security design
Put data security first
Track and trace via satellite
When running beyond cellular coverage areas, you get tracking position intervals every one minute.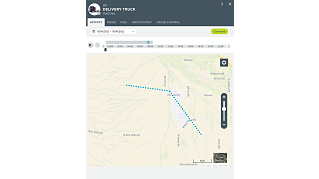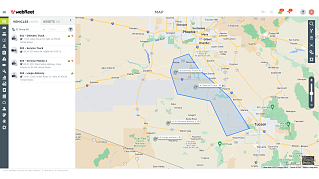 Geo-fence alerts
Get notified whenever a vehicle enters or leaves a previously designated area, even beyond cellular coverage area.
Satellite Network
Global coverage provided by Iridium Satellite Network. Their technology Short Burst Data® (SBD®): use of 66 cross-linked Low Earth Orbit (LEO) satellites that make it simple and reliable to track and monitor assets across the globe.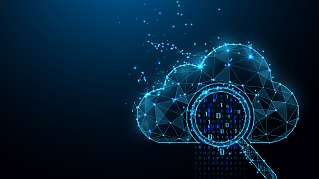 Data storage
When in remote network areas, data will be stored up to 40 hours while driving.
Rugged design
Iridium Edge has a robust case capable of withstanding harsh envir­on­ments and a power supply cable for industrial install­a­tions. IP67 certified.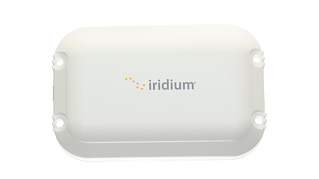 Webfleet SAT is powered by Iridium Edge
Technical specific­a­tions
Dimensions

Enclosure: 123.2 x 78.4 x 30.3 mm / 4.85 x 3.08 x 1.19 inches




Pigtail cable: 270 mm / 10.62 inches

Weight

205g / 7.23oz

Material

(Enclosure) Lexan EXL 9330 - (Grey plug) Formosacon FM090

Supply voltage

9 V / 32 V

Power Down Consumption

200 uA

Power during Trans­mission

1.6 W

Temperature

Operation:-40 °C to +85 °C / -40 °F to +185 °F




Storage: -40 °C to +85 °C / -40 °F to +185 °F

Protection class

IP67

Network

Iridium® Short Burst Data (SBD)

Antenna

Built in Iridium satellite antenna (1616 MHz to 1626.5 MHz)
Return on investment within 6 to 9 months
Want to improve your fleet's performance? Book a demo and find out how LINK 740 takes your fleet management to the next level.