GreenFleet EV Champion, Richard Parker of Webfleet, considers the role telematics can play in supporting the electrification of transport and outlines the company's exciting EV software innovations.
The year 2021 marked a momentous 12 months for decarbonisation, despite the social and economic turmoil caused by the COVID-19 pandemic.
The world is accelerating climate change action, and exciting times lay ahead for the electrification of transport.
Preparing for a net zero future
At the COP 26 climate conference, the UK reaffirmed its ambition to end the sale of new petrol and diesel cars and vans by 2030.
What's more, 2021 proved the most successful to date for electric vehicle (EV) adoption. According to the Society of Motor Manufacturers and Traders (SMMT), more new EVs were registered than over the previous five years combined.
With government, business and consumers alike making significant strides towards a greener transport future, and the barriers to electric vehicle (EV) adoption now starting to slowly fall away, we can look to the future with a sense of optimism.
But we can ill afford to be complacent. The case for EVs may be growing ever stronger – with vehicle costs falling, and range and availability improving – but adoption still remains in its infancy. With transportation responsible for around 24 per cent of direct CO2 emissions, it is clear more must still be done to support the seismic zero-emissions transition.
Automotive R&D departments show few signs of taking their feet off the gas, but tech innovations should not be viewed as the sole preserve of vehicle manufacturers.
Action stations: a spotlight on telematics innovations
As Europe's leading telematics provider, Webfleet has recognised that action is also needed from the wider ecosystem of industry suppliers.
Telematics solutions, in particular, have an increasingly important role to play in helping shape fleet EV strategies. Businesses looking to electrify their fleets need critical data insights to help them make the right decisions at the right times – both for EV procurement and for their ongoing management.
Webfleet has grasped the nettle and has committed to sustained investment in advanced EV fleet management innovations, developing a software solution that has already become an indispensable feature of the Webfleet SaaS system.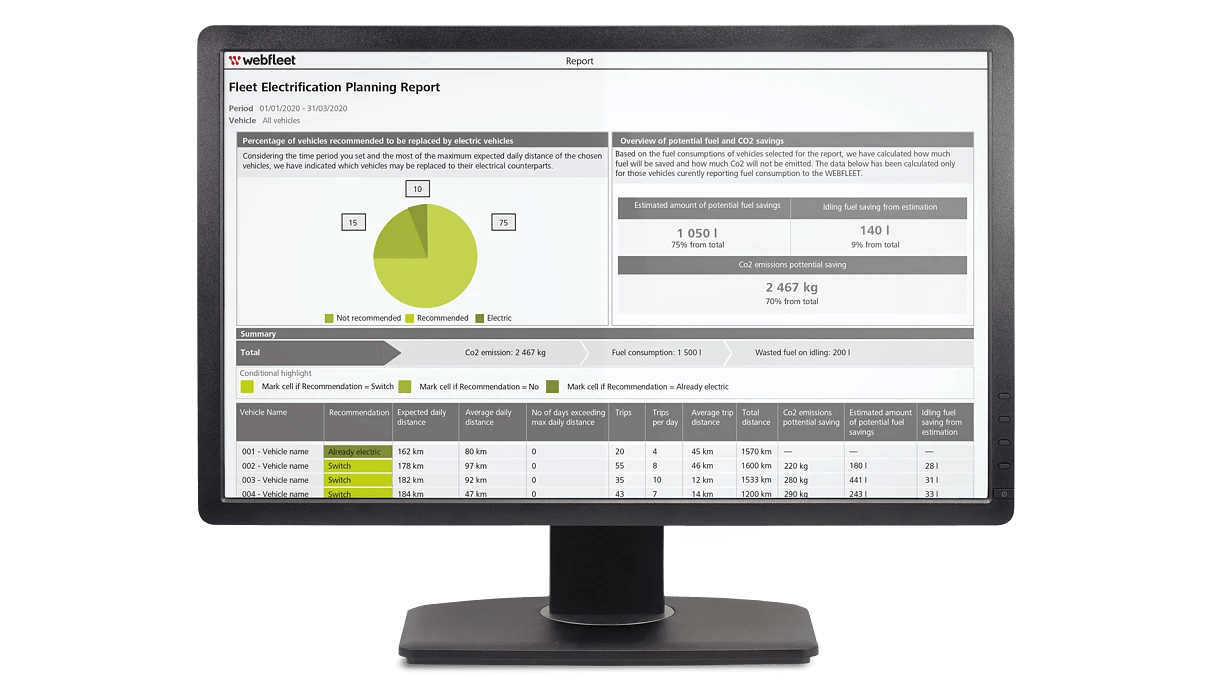 The Fleet Electrification Planning Report sits at the heart of Webfleet's EV toolkit, enabling fleet decision-makers to identify the internal combustion engine (ICE) vehicles that could be replaced with EV alternatives.
The published ranges of EVs, based on dynamometer testing, can often be lower in 'real world' conditions, with load, temperature, terrain and driving behaviour all affecting performance.
Drawing upon telematics insights from incumbent vehicles, maximum daily 'real world' mileages can be selected by fleet managers within the planning report, along with criteria ranging from road types to standstill times, to signpost a fleet's true EV potential.
How telematics data is helping maximise the green mile electrification of transport
As businesses turn their attention to reducing the total cost of ownership (TCO) of their electric fleets, the introduction of cost-effective charging strategies will become increasingly important and here, once again, Webfleet innovations have a valuable role to play.
Supporting the ongoing operation of EVs, workflow planning can be optimised with real-time battery levels and remaining driving ranges available for every fleet vehicle. EV health data enables pre-emptive maintenance, while on the road, the location of charging points can be pinpointed via drivers' PRO sat nav devices, with charging infrastructures detailed across more than 50 countries.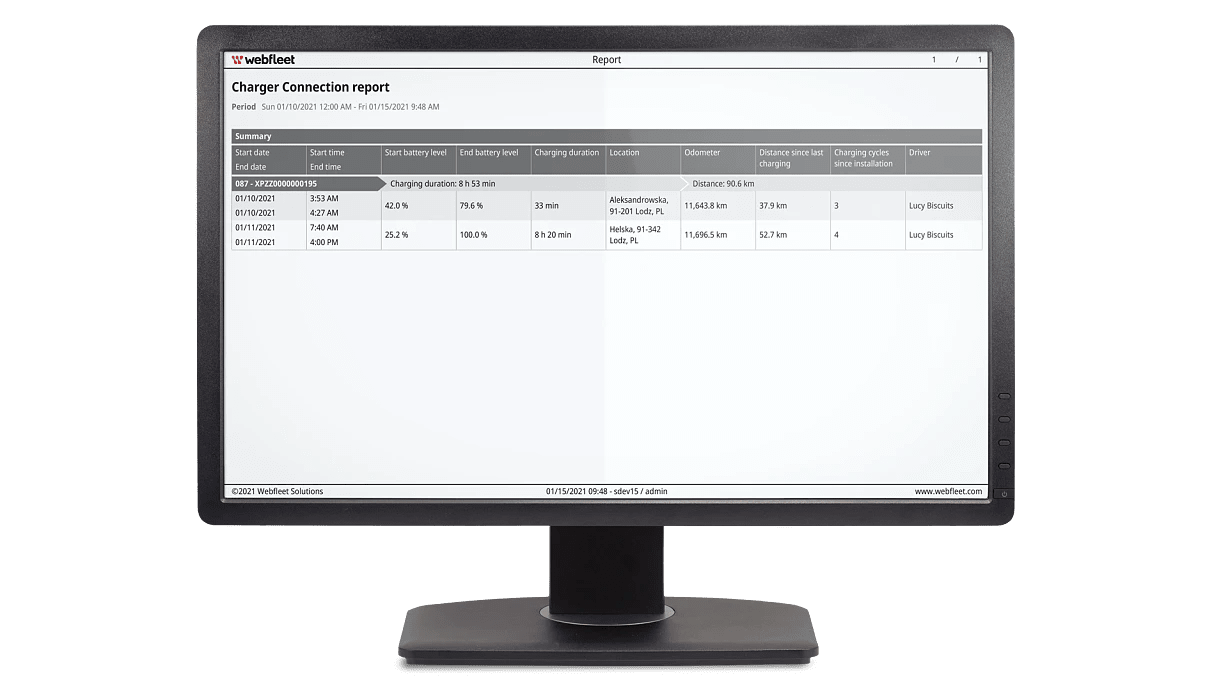 Valuable insights into the charging process and vehicle charge levels, meanwhile, are provided by a Charger Connection Report.
This helps ensure charging occurs at the times of day when tariffs are most favourable and just before vehicles are needed for operation. Moreover, it has been designed to ensure charge levels are maintained between the optimal 20 and 80 per cent to minimise costly battery degradation.
Webfleet' R&D into its EV solution continues apace with the most recent innovation – the Energy Consumption Report – providing an analysis of energy usage in kWh, per vehicle, per day. With this information at their fingertips, fleet managers are able to compare vehicles' energy performance and identify and address cases of inefficient operation.
The report includes a breakdown of energy used for driving and other purposes, such as the powering of auxiliary equipment. What's more, it details the energy recovered through regenerative braking – data that can play an important role in helping measure and improve driving performance to optimise vehicle kWh.
As we collectively strive to deliver on the 'green print' to decarbonise transport, such essential data intelligence will have a pivotal role to play in paving the way to an electric fleet future that is both environmentally and financially sustainable.
Find out more about our electric vehicle solutions.
Boost your fleet's EV potential
Read our free eBook for insights on the growing EV market, with tips on adding EVs to your fleet efficiently and effectively.
Download the FREE guide