Your fleet's data is one of your company's most important assets. From vehicle locations to fuel consumption and driver behaviour, your fleet generates a huge amount of potential data. Used effectively, this information can help improve your fleet's performance.
But how do you ensure you use this data in the most effective way possible? In this post, we cover the main aspects of leveraging your valuable fleet data. We'll also consider tools that can make collecting, analysing and using data incredibly simple.
First, know which fleet data matters
You can't of course make the most of fleet data unless you're collecting it. And that starts with understanding what kinds of data will support your business aims. Most likely, you're concerned with anything involving productivity.
Vehicle condition and driver behaviour play big roles in your overall fleet performance. When is the last time you scheduled in predictive maintenance—and for which vehicles? Such information helps you keep vehicles in roadworthy condition, not to mention avoid unplanned downtime and costly repairs. What are your drivers' remaining hours—and are drivers adhering to required break times? This data is crucial to compliance and ensuring the well-being of your team.
If you're running a fleet of internal combustion engine (ICE) vehicles, data on fuel use will naturally matter to your bottom line. If you manage a fleet of electric vehicles (EVs), staying on top of battery health and vehicle charges is essential to smooth operations. Collecting data is about increasing visibility: Having a bird's-eye view of your operations is key to making quicker and smarter business decisions.
Reguarly analyse your fleet data
To thrive in today's highly competitive landscape, you'll want clarity on how to optimise your fleet. This is where regular data analysis comes in. You'll need to make sense of the information you're pulling in so you can pinpoint effective actions.
Take fuel-consumption data as an example. If you've been tracking your fleet's fuel use over time, you should be able to identify patterns. Do you notice spikes or drops in fuel consumption? These would be worth investigating, perhaps by looking into driver data too.
From the driver data, can you conclude that certain drivers use far less/far more fuel than their company peers? Assess behaviours like hard acceleration, speeding and excessive idling. Mentoring or trainings on more fuel-efficient driving could make a difference. Maybe you'd want to create a reward programme for drivers who consistently meet your fuel-efficiency standards.
In analysing your data, you're seeking actionable insights about your fleet operations.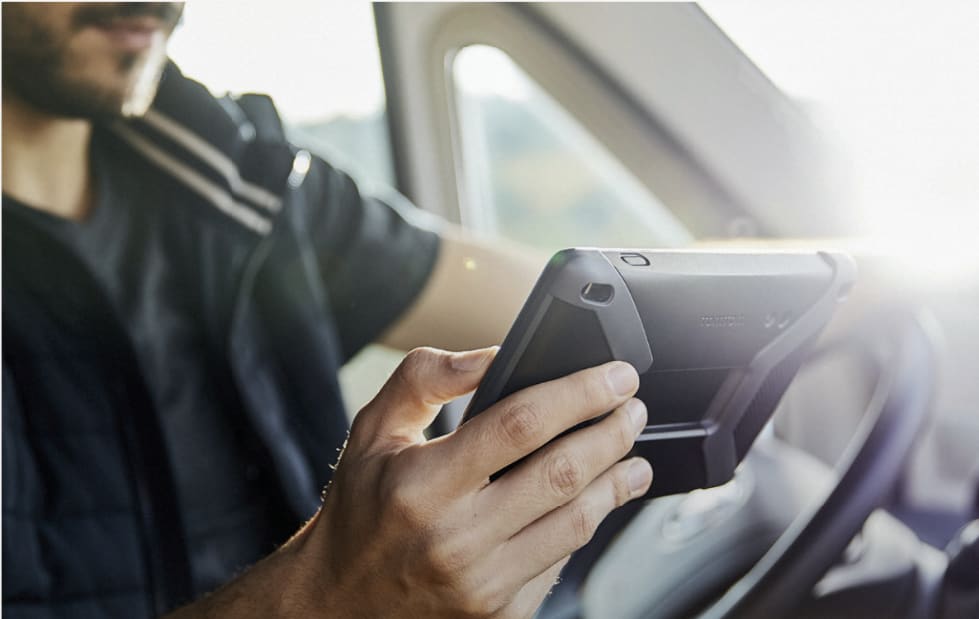 Put your fleet data to work
With any trends in your data identified and analysed, you'll have a clear idea of which actions you can take to enhance fleet performance. Key areas typically include:
Cutting costs – Like fuel, vehicle maintenance and tyres make up a significant portion of your operational costs. By monitoring your maintenance schedules and tyre conditions, you can keep your vehicles on the road and prevent unexpected repairs.

Increasing safety – With 90% of road incidents caused by human error, it's necessary for drivers to be aware of skills they can build on behind the wheel. Support driver development by noting any driving habits that should be applauded or improved.

Providing excellent customer service – Which routes are most efficient? How long do drivers typically spend with customers? Which customers need updated delivery ETAs? Your data will show you ways to increase customer satisfaction.

Operating more sustainably – Environmental responsibility is increasingly growing into a business KPI. While fleets must stay on top of regulations around emissions, they also need to consider public perception. Customers want to work with businesses that take decarbonisation seriously. So, setting and meeting benchmarks to reduce your fleet's footprint makes sound business sense.
Tying it all together
Data-driven decision-making is critical for today's fleet management. The tools you use can make or break your ability to leverage your fleet data effectively.
Spreadsheets have their uses. But they can't handle the speed and flow of data needed to make quick decisions. Also, you can't automate data processes by connecting a spreadsheet to your vehicles. A fleet management system eliminates these blockers.
An integrated fleet management solution provides you with a suite of tools, from vehicle trackers to rugged navigation devices and apps to simplify driver vehicle inspections and other daily tasks. With a solution like Webfleet, you can even combine all the tools you need in a single cost-effective package.
You know what's best for your business. Evaluate your current data tools: Do they support your ability to collect and analyse data? Do they provide valuable insights on vehicle locations, fuel consumption, maintenance schedules and driver behaviour in real time? If not, it may be time to update your approach to data management.
We aim to help fleets thrive. If you could use some free advice on making the most of your fleet data, let us know—just schedule a time to speak with one of our specialists.
---