The introduction of the digital tachograph card means fleet managers can now monitor and store driver data, in a cost-effective, efficient manner. This article will provide you with the different card types, how to apply and the rules to remain compliant.
What are digital tachograph cards?
Tachograph cards are smart cards inserted into a tachograph device to record driving time, vehicle speed and other data for 3.5t and above commercial vehicles. The most known is the digital driver tachograph card. A physical record of a driver's profile and activity within a commercial vehicle. Data held on the card means a driver is accountable if they do not abide by the scope of Regulation (EC) No 561/2006.
What are they used for?
The digital tachograph card is inserted into the digital tachograph device onboard a commercial vehicle. The digital tachograph records vehicle speed, distance travelled, and driver activity and stores it on the assigned digital tachograph card. As a result, the data gathered is used for compliance checks and accident investigations.
What types of cards are there?
Tachograph company cards – Companies that manage fleet vehicles are provided with a smart card called a tachograph card. This card, along with a tachograph, enables Fleet Managers to review driver details to guarantee that they are adhering to the rules.
Tachograph workshop cards – Valid for one year and only available to authorised personnel. A workshop can use this card to calibrate, install, and repair tachographs. However, regulations state use of the workshop card is only in conjunction with administrative operations.
Tachograph control cards – Used by governing bodies and law enforcement to verify driver compliance on the roadside or collision incidence. Authorised personnel can enforce the tachograph compliance rules by overriding and accessing data through the driver card or the tachograph unit.
Tachograph driver cards – A driver who operates a commercial vehicle over 3.5t legally has to have a tachograph installed. Therefore, as mentioned above, the driver tachograph card monitors driving hours and rest periods to ensure compliant safe driving on UK roads. The driver tachograph card stores detailed driver information with a photo ID that is valid for 5 years.
How to apply for a digital tachograph card?
To apply for either a company tachograph card or a driver tachograph card you can visit the UK government website. Here you will find a detailed step-by-step process to support your application. You can either apply for a driver tachograph card by post or online, costing £32 for a new issue or £19 for a renewal. To receive a company tachograph card you will need to apply online.
What are the digital tachograph rules?
A set of defined rules ensure businesses and drivers remain compliant and abide by regulations. The scope of Regulation (EC) No 561/2006 specifies:
Driving times
One-day period – Drivers can drive up to 9 hours (extended to 10 hours no more than twice a week).
Week period – Drivers can legally drive for up to 56 hours.
Two-week period – Drivers can drive up to 90 hours in two consecutive weeks.
Rest periods
Daily rest periods – Every 4.5 hours a driver has to take a 45-minute rest at a minimum. In total, a driver should have a minimum rest period of 11 hours per day.
Weekly rest periods – A driver must rest a total of 45 hours minimum for every week of driving, within at least six days from the end of the previous weekly rest period.
It is essential for businesses and drivers to adhere to the rules and regulations to ensure compliance. Transport operators should gather and analyse tachograph data on a regular basis. To remain compliant, data is gathered every 28 days for the driver and 90 days for the vehicle.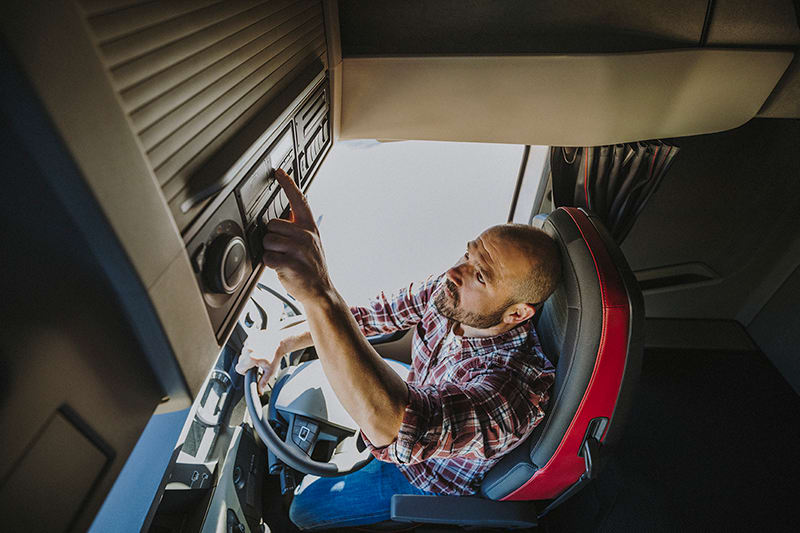 Webfleet Tachograph Manager
The Webfleet Tachograph Manager is the reliable all-in-one solution to download, analyse and archive your tachograph data. Ensure your business remains compliant without unnecessary administration with automated remote downloading, keeping your drivers on the road. Webfleet securely stores and manages your Company Card data in a GDPR-compliant manner, meaning you do not need to worry about data security. The Webfleet Tachograph Manager is the ultimate way to quickly and easily monitor and store driver data.
Tips to manage your transport fleet
Download the eBook from Bridgestone and Webfleet and find out how to get your running costs under control.
Download the FREE guide