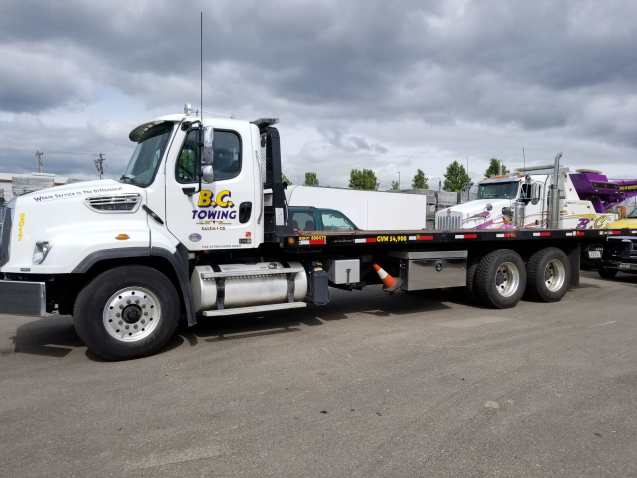 Jeff Asher runs a family business and loves it that way. For over 18 years, he and wife Becky have been at the helm of BC (Becky's Choice) Towing in Salem, Oregon. Now his daughter and son-in-law have also joined the family business, which is recognized as one of the top 10 Wreckmasters in the United States.
"We take pride in our work and go out of our way to provide our clients with the best experience possible," says Jeff. For BC Towing, this includes regular training and certification of drivers and equipping the firm's 28 vehicles with state of the art equipment, including fleet management software and forward and rear facing cameras.
"Tow operators face a lot of risks in their business," says Jeff. "You try to operate with honesty and integrity. But there's always folks out there who will lodge a complaint against you, just because they don't like trucks on the road. Cameras are invaluable to us and critical for protecting our company — whether it is an incident where we are to blame or not. The evidence the cameras capture is impartial."
Jeff relates a recent story from one of his drivers. The fellow was accused of scratching up the side of a vehicle during a recent tow. "The owner of the vehicle called up, very angry, telling me that it was my driver's fault. He said the vehicle had long scratches down the side."
Jeff had a sneaking suspicion he was being conned. "If we were to blame, absolutely I'd make it right," he says. "But while I had him on the phone I called up the footage from my TomTom Webfleet camera. I could see the lift was handled without incident and I could see his son walking around the vehicle. I mentioned to the gentleman that I was looking at video footage. He then responded by saying, 'oh, you have cameras?' and promptly hung up never to be heard from again."
Cameras integrated with fleet management offer towers a solid line of defense
Onboard cameras integrated into a fleet management solution such as TomTom Webfleet provide tow operators with a solid line of defense. They help mitigate risk, which is important in an industry facing heightened scrutiny from insurers.
Tow truck operators work in one of the most dangerous and challenging business climates. Distracted drivers on the road, challenging weather conditions, and oncoming traffic means that drivers in the profession are considered to have one of the most dangerous jobs in North America. According to the International Towing and Recovery Hall of Fame in Tennessee, nearly 100 tow truck drivers lose their lives on the job every year.
Given the risks, property, and casualty (P&C) insurance carriers are now reluctant to take on towers as clients. They don't want to take on the liability for physical damage or auto liability. The impact has been significant within the industry, with a number of towing companies having to shut down their business operations. In September 2016, a major insurer in the US exited the towing sector, indicating they would no longer take on towing operators as clients.
This is why progressive towers actively seek to manage their risk, implementing zero tolerance policies around distracted driving. They also provide proactive driver coaching through solutions like TomTom OptiDrive 360° from TomTom Telematics and incorporate advanced safety equipment such as onboard camera technologies to provide 24/7 documentation.
"As a tow operator, anything you can do to protect yourself or sell yourself to a prospective insurer is great," says Rusty Russell co-owner of SR Towing. SR, operating out of eight locations in California, operates one of the largest towing and recovery concerns in Southern California. The SR fleet consists of wreckers, lowboys, service trucks, and a super heavy-duty wrecker. The company has been using camera technology for nearly a decade. "By integrating camera technology with fleet tracking in my trucks, I gain a comprehensive view of my business. I can also demonstrate to my insurer that I operate with superior business practices."
Rusty shares a tragic story that underscores the vital importance of video-based evidence. About eight years ago one of his drivers, with two passengers in the back of his truck, was hit by a vehicle while engaging in a lift operation on the side of the highway. The driver of the other vehicle was killed on impact. "In a terrible situation such as this, it can become a prolonged and complex investigation. Insurers will hold money in reserve for a number of years in the event of a lawsuit," explains Rusty. However, in this circumstance, video evidence captured by the tow vehicle's rear facing camera documented the entire incident. It became clear to Rusty and the California highway patrol officer who viewed the footage that the driver had fallen asleep at the wheel. "Because of the footage captured by our onboard rear facing camera, everyone understood the tragic circumstances of the accident. The case was resolved and our driver absolved of any responsibility in days."