Vehicles are one of your biggest assets and also tend to be one of the most taken for granted. Drivers may just view them as something to get them from job to job throughout the day, without paying attention or notifying the manager when something is wrong.  Wouldn't it be nice to have an automated, accurate process to forecast vehicle maintenance using real time telematics data resulting in cost savings as well as potential cost savings and helping to protecting your drivers?  Good news!  There are more efficient options available.
Usage-based maintenance (UBM) is a form of predictive maintenance (PdM) where scheduled vehicle maintenance is triggered based on actual utilization of an asset from accurate telematics data. Improving the ability to properly maintain your assets and schedule preventative maintenance workloads, true usage-based maintenance forecasts a next due date based on average daily usage.
A usage-based approach combines the best of traditional maintenance plans and the power of utilization data to:
Minimize planning time
Forecast maintenance budgets
Reduce the risk of over or under maintaining your assets
Reduce downtime
The traditional approach
Traditionally, preventative maintenance (PM) was triggered by a time interval or mileage (and often a combination of both). There are pros and cons to each approach, of course, but neither is perfect.
Time-based preventative maintenance
Time-based (or calendar-based) maintenance plans are easy to schedule and predict – they're simply based on a calendar interval. Let's say you want to winterize your vehicles every year in October. This type of schedule is extremely easy to predict when maintenance will be next due (October 1st of the next year).
Even though time-based plans are a great way to schedule seasonal PM tasks, they aren't set up to maintain assets based on their utilization. This can easily result in over-maintenance or under-maintenance of the vehicles – both of which can be problematic and expensive.
Pros:
Simple and easy to manage and track
Easy to predict future occurrences
Cons:
Not based on utilization of asset
Can lead to over-maintenance or under-maintenance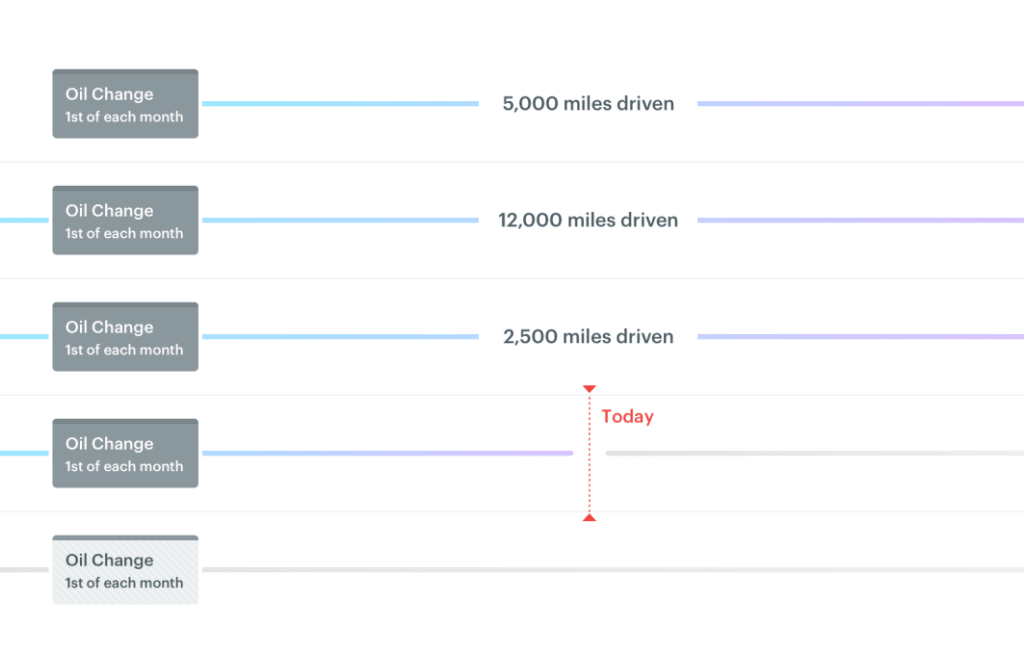 Odometer-based preventative maintenance
Basing preventative vehicle maintenance off odometer readings versus time is better for most as it is closely tied to the utilization of the vehicle instead of a random date.
An odometer-based approach can reduce over- and under-maintenance, but can require more overhead to successfully implement. This approach requires regular odometer updates to trigger maintenance tasks – a huge challenge which can involve chasing down drivers or searching through written reports/emails to add to a fleet maintenance system.
Also, meter-based preventative maintenance is the difficult to predict when a vehicle will be due for maintenance. PM tasks become due when a meter reading is near or beyond the next trigger point (the next due meter value). Without an actual due date, it is hard to plan when maintenance will be due using a calendar.
Pros:
Based on actual utilization
PM tasks are triggered when needed, not by an arbitrary date
Cons:
Difficult to get timely meter readings which leads to late or missed (aka costly) PMs
Hard to predict the date of future occurrences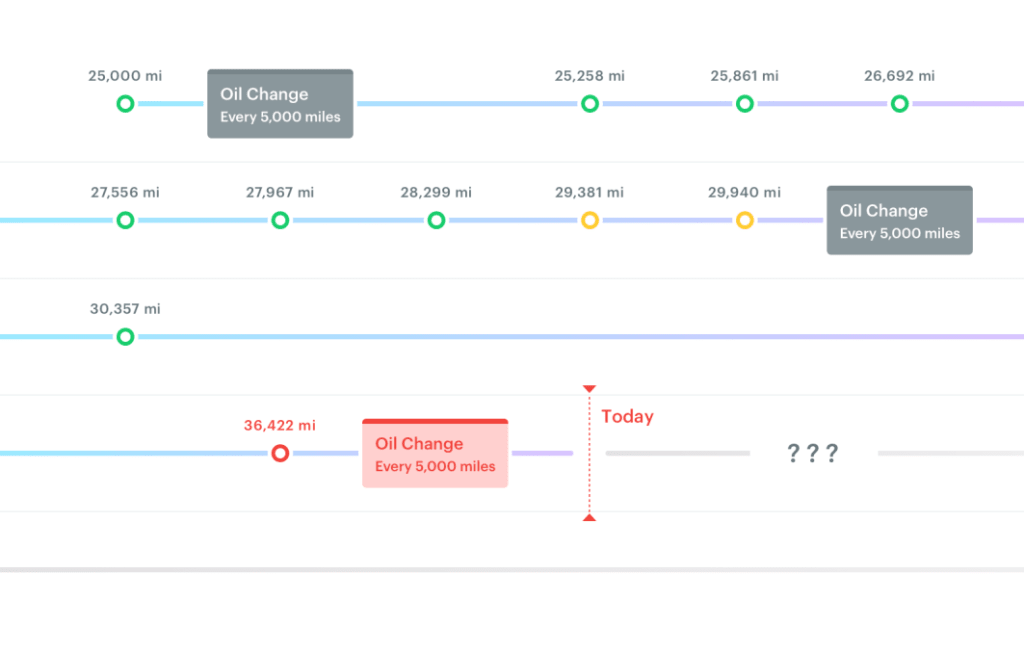 Preventative vehicle maintenance can be a great way to reduce costly, unplanned maintenance and vehicle downtime. If not done correctly, however, it can result in under- or over-maintaining assets. When coupled with the high costs and difficulty of program implementation, preventative maintenance could make a negative impact on budget, efficiency and uptime.
Why predictive vehicle maintenance works
Predictive vehicle maintenance combines traditional approaches with the power of utilizing data to provide tangible benefits for fleets. Since average vehicle usage is constantly recalculated to adjust maintenance schedules accordingly, less effort is required to achieve preventative maintenance harmony and control.
With that increased insight and control, fleets can more closely predict and budget for future operating costs. Predictive maintenance reduces risk, and automatic data updates help maintenance plans flows seamlessly to ensure fleet managers meet budgetary performance goals.
To further simplify the process, fleets can integrate predictive maintenance systems with a telematics solution to pull mileage readings automatically. This eliminates the time-consuming task of chasing and logging mileage. Average vehicle usage automatically adjusts as new readings are collected, and scheduled maintenance due dates are adjusted based on real-time data. See how Fireline Corporation benefited from gaining greater visibility into their maintenance schedules through tracking hours on the road and mileage.
Usage-based maintenance in action
Usage-based maintenance scenario
Oil Change every 5,000 miles
Last Oil Change was at 22,450 miles on November 15
Oil Change next due at 27,450 miles
Vehicle averages 115 miles per day
It will take 43 days (5,000/115) for the Oil Change to become due which lands on December 28.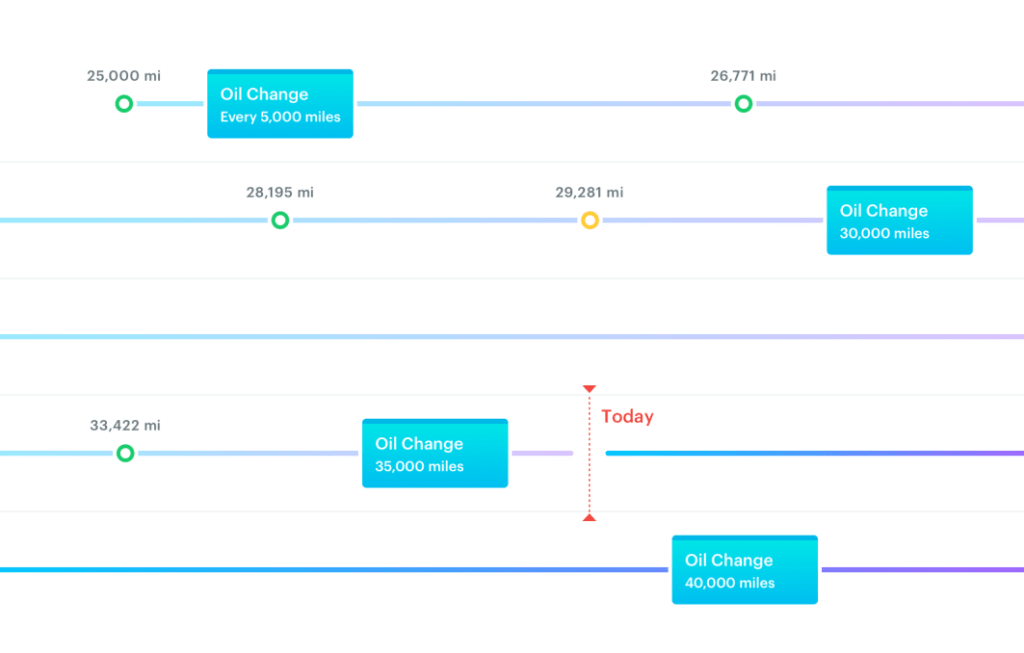 Overall, usage-based maintenance is typically a better approach than simple time or meter reading triggers because it provides the best of both approaches: asset utilization and easy to predict future occurrences and budget for vehicle maintenance.
Learn more about fleet maintenance with Fleetio in our App Center.