Dublin: Fleet Management by Webfleet
Your business is unique. Just like your fleet of vehicles. Therefore, you need a flexible fleet management platform: a solution in terms of fleet optim­isation, vehicle tracking, workforce management, green & safe driving, business integration and connected car services that suit your activities, vehicles, size, budget and location.
Fleet management solution for your fleet in Dublin
Are you looking for a fleet management solution for the Dublin region that provides you with real-time information about the location of your vehicles? Do you also want to communicate directly with your drivers, dispatch jobs, track a mileage logbook, improve driving behaviour and save on fuel? Our vehicle tracking and Active Driver Feedback help you with this challenge in a busy city like Dublin.
Dublin – the beating heart of Ireland
Dublin is the capital city of Ireland and the country's most populous city. On the banks of the Liffey, it has many historical sites including Dublin Castle and St Patrick's Cathedral as well as tourist attractions ranging from the Guinness brewery to the National Museum of Ireland to St Stephen's Green. Tourism is a big part of the economy but the city is also a big centre for hi-tech with companies like Facebook, Google and Twitter choosing to base themselves at the so-called Silicon Docks area. Educational insti­tu­tions like Trinity and University College Dublin also make this a centre for learning – as it has been for hundreds of years.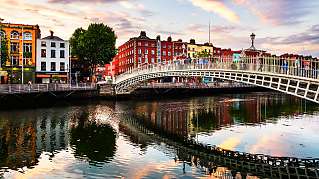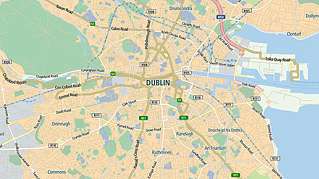 The challenges your drivers & vehicles face in Dublin
Dublin is a modern city with a Georgian footprint. Getting round the centre can be tricky with its narrow streets (not to mention the need to watch out for Luas trams). The city is at the centre of a network of roads including the N1, N2, N3, N7 and N11. The M1, M2, M3 and M4 head north and west linking the city to the rest of the country while the M50 creates a semi-ring road around the south. The city comprises many suburbs and outlying districts including Terenure, Rathmines, Rathcoole and Sandyford and has an inner and outer orbital route. The intro­duction of an eFlow barri­er­-free tolling system has eased some congestion issues but others remain.
Dublin's live traffic flow⁠
Why is a fleet management solution partic­u­larly useful in a congested city like Dublin? Due to heavy traffic during the day and specifically in peak hours, each vehicle spends about 43%¹ more on the road (a total of 3,148 miles¹ in and around the city). That means an average commercial vehicle driver wastes more than 192 hours¹ per year while sat in traffic.
Webfleet
Webfleet
For more than 20 years, our awarded fleet management platform Webfleet, an SaaS (Software as a Service) solution, has helped teams to cooperate better. Whether for real-time tracking and tracing, staff management or driving econom­ically and safely, more than 50,000 customers around the world make smarter decisions every day with Webfleet. No matter where your drivers are, our fleet management service and products ensure that your team remains connected, supporting your drivers and helping you to increase the general efficiency of your fleet.
Webfleet is ISO/IEC 27001 certified which means it fulfils the required high standards of confid­en­ti­ality, integrity and avail­ab­ility.
Request callback⁠
Dublin service area for Fleet Management and Vehicle Tracking
Some of the disctricts around Dublin where Webfleet is active
Bray

Rockbrook

Rathcoole

Lucan

Swords

Malahide
Fleenstown

Dunboyne

Leixlip

Carrick­mines

Blanchard­stown

Sandyford
Whitehall

Howth

Drimnagh

Terenure
Request a callback to find out how Webfleet can help your business.