Dallas, Texas
Fleet Management by Webfleet
Your business is unique. Just like your fleet of vehicles. Therefore, you need a flexible fleet management platform: a solution in terms of fleet management, vehicle telematics and connected car services that suit your activities, vehicles, size, budget and location.
Fleet management solution for your fleet in Dallas
Are you looking for a fleet management solution in Dallas that provides you with real-time information about the location of your vehicles? Do you also want to communicate directly with your drivers, dispatch jobs, improve driving behavior and save on fuel? Our vehicle tracking and Active Driver Feedback help you with this challenge in a busy city like Dallas.
Dallas – Leading Global City
Dallas, birthplace of the microchip, the ATM and the frozen margarita cocktail (amongst other things), is known best for retailing, fashion, banking and insurance. Recently, Dallas has even become a leader in high-tech industries like telecom­mu­ni­ca­tions and gaming, and it ranks second only to San Jose, California. Over the years Dallas has thinned out extensively and the Dallas/Fort Worth area is now over 380 square miles with 1.5 million people living in Dallas and more than 5 million living in the Metro area. While the plans are underway to upgrade the roadway infra­structure to combat this boost in population, congestion is really starting to affect the region. According to the TomTom Traffic Index, due to congestion, drivers in the Dallas-Fort Worth region have to deal with 24 minutes extra per day, or 93 hours extra per year, of driving due to traffic!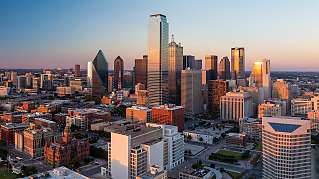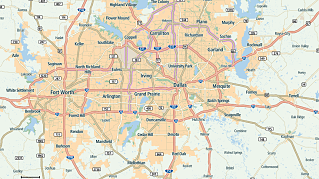 The challenges your drivers & vehicles face in Dallas
With so many residents, and as a major trans­portation hub for the south, with two airports serving over 67 million people per year, and high volumes of train and bus passengers, – Dallas is a real tough cookie when it comes to fleet management for businesses. The vastness of the area can make it difficult to obtain efficiency or optimized operations when managing vehicles and drivers. That's why we're here, to help and support you and your business' produc­tivity.
Dallas live traffic flow⁠
Webfleet
Webfleet
For more than 20 years, our awarded fleet management platform Webfleet, a SaaS solution (Software as a Service), has helped teams to cooperate better. Whether it concerns real-time tracking and tracing, staff management or driving econom­i­cally and safely, more than 50,000 customers in the world make smarter decisions every day with Webfleet. No matter where your drivers are, our fleet management service and products ensure that your team remains connected, support your drivers and help you to increase the general efficiency of your fleet.
With Webfleet you can get started in one day, without IT instal­lation, and you will start saving money immediately.
Request callback⁠
Dallas service area for Fleet Management and Vehicle Tracking
Some of the regions in Dallas where Webfleet is active
Bishop Arts District

Casa Linda

Cedar Springs

Deep Ellum
Downtown Dallas

Exposition Park

Fair Park

Highland Hills
Kessler Park

Knox-Hen­derson

Lakewood

Fort Worth
Request a callback to find out how Webfleet can help your business.