Portland
Fleet Management by Webfleet
Your business is unique. Just like your fleet of vehicles. Therefore, you need a flexible fleet management platform: a solution in terms of fleet management, vehicle telematics and connected car services that suit your activities, vehicles, size, budget and location.
Fleet management solution for your car fleet in Portland
Are you looking for a fleet management solution in Portland that provides you with real-time information about the location of your vehicles? Do you also want to communicate directly with your drivers, dispatch jobs, improve driving behavior and save on fuel? Our vehicle tracking and Active Driver Feedback help you with this challenge in a busy city like Portland.
Portland, OR – The City of Roses
Portland, Oregon has been heralded as the heartland of the Pacific Northwest. The city has experienced a boom in the past few decades as a homestead of the counter­culture. As a port town with access to rivers and the sea, Portland came to be seen as a New England type city in the northwest. While Portland lacks the business of other western cities like those in California, it is charac­terized by vibrant neigh­bor­hoods like Boise, Healy Heights and the Sylvan Highlands.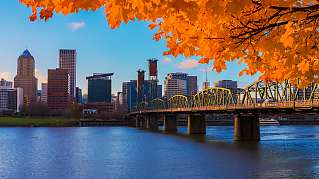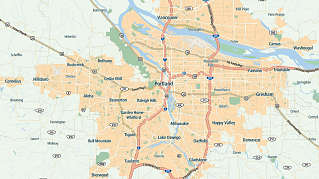 The challenges your drivers & vehicles face in Portland
The streets of Portland are known to become crowded during the constant rains. Much like its northern neighbor Seattle, Portland experiences heavy rainy seasons. Busy districts like downtown, Hollywood, Pearl District, Concordia and Northwest are known for heavy traffic during business hours. Surprising to some, Portland actually ranks as the #7 most congested cities in the US according to the TomTom Traffic Index. This traffic congestion causes 29% extra travel time (3% increase from last year) for you, and results in 34 minutes of extra driving per day, or about 5 and a half extra days per year!
Portland Live Traffic Flow⁠
While the streets are a grid system, it can be difficult for a fleet to move through the city without hitting congestion. To maximize the potential of your fleet, it's necessary to utilize a top-of-the-line fleet management system like Webfleet. This way you can success­fully navigate, track, optimize and coach your fleet through residential areas like Boise, as well as commercial regions like Concordia with ease.
Webfleet
Webfleet
For more than 20 years, our awarded fleet management platform Webfleet, a SaaS solution (Software as a Service), has helped teams to cooperate better. Whether it concerns real-time tracking and tracing, staff management or driving econom­i­cally and safely, more than 50,000 customers in the world make smarter decisions every day with Webfleet. No matter where your drivers are, our fleet management service and products ensure that your team remains connected, support your drivers and help you to increase the general efficiency of your fleet.
With Webfleet you can get started in one day, without IT instal­lation, and you will start saving money immediately.
Request callback⁠
Portland service area for Fleet Management and Vehicle Tracking
Some of the regions in the metropole of Portland where Webfleet is active
Battle Ground

Salmon Creek

Vancouver

Camas
Troutdale

Gresham

Damascus

Gladstone
Request a callback to find out how Webfleet can help your business.