Sacramento
Fleet Management by Webfleet
Your business is unique. Just like your fleet of vehicles. Therefore, you need a flexible fleet management platform: a solution in terms of fleet management, vehicle telematics and connected car services that suit your activities, vehicles, size, budget and location.
Fleet management solution for your fleet in Sacramento
Are you looking for a fleet management solution in Sacramento that provides you with real-time information about the location of your vehicles? Do you also want to communicate directly with your drivers, dispatch jobs, improve driving behavior and save on fuel? Our vehicle tracking and Active Driver Feedback help you with this challenge in a busy city like Sacramento.
Sacramento – How does your fleet get around the Capital City of the West?
The capital city of California and the surrounding metro­politan area has a population of over two million. The city is separated into four section­s--the central/western, south­eastern, south­western and "north of the American River." Like all the other cities in California, Sacramento enjoys a diverse population and has undergone some changes since it was first discovered by the Spanish. Known as a river town, which evolved from the California Gold Rush, the western edge of the city runs along the Sacramento River, which winds north of the American River, and the city showcases its history the 28 acre Old Sacramento area.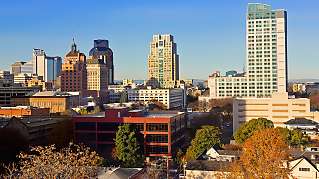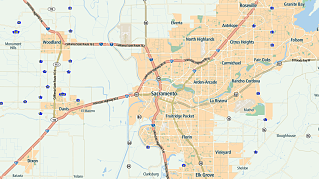 The challenges your drivers & vehicles face in Sacramento
The traffic in Sacramento is often overlooked since the southerly Los Angeles has made such a name for herself as a monster of congestion. Sacramento currently is ranked #22 of the most congested cities in the US according to the Webfleet Traffic Index. This traffic congestion causes 22% extra travel time (3% increase from last year) for you, and results in 28 minutes of extra driving per day, or about 4 and a half extra days per year! However, to properly navigate a fleet along the major highways I-80 and I-5, an organi­zation must be proactive. Even the south­eastern and south­western neigh­bor­hoods boast larger populations and the rush hour through these areas is enough to make even a hardened driver lean on the horn. Webfleet offers a complete fleet management solution that will help take your business to new levels of produc­tivity and efficiency.
Sacramento's Live Traffic Flow⁠
Webfleet
Webfleet
For more than 20 years, our awarded fleet management platform Webfleet, a SaaS solution (Software as a Service), has helped teams to cooperate better. Whether it concerns real-time tracking and tracing, staff management or driving econom­i­cally and safely, more than 50,000 customers in the world make smarter decisions every day with Webfleet. No matter where your drivers are, our fleet management service and products ensure that your team remains connected, support your drivers and help you to increase the general efficiency of your fleet.
With Webfleet you can get started in one day, without IT instal­lation, and you will start saving money immediately.
Request callback⁠
Sacramento service area for Fleet Management and Vehicle Tracking
Some of the regions in the metropole of Sacramento where Webfleet is active
Fruitridge Pocket

Florin

Elk Grove

Vineyard

La Riviera
Arden-Arcade

North Highlands

Carmichael

Davis

Rancho Cordova
Antelope

Fair Oaks

Citrus Heights
Request a callback to find out how Webfleet can help your business.