San Diego
Fleet Management by Webfleet
Your business is unique. Just like your fleet of vehicles. Therefore, you need a flexible fleet management platform: a solution in terms of fleet management, vehicle telematics and connected car services that suit your activities, vehicles, size, budget and location.
Fleet management solution for your car fleet in San Diego
Are you looking for a fleet management solution in San Diego that provides you with real-time information about the location of your vehicles? Do you also want to communicate directly with your drivers, dispatch jobs, improve driving behavior and save on fuel? Our vehicle tracking and Active Driver Feedback help you with this challenge in a busy city like San Diego.
San Diego, CA – America's finest city
San Diego, CA, has been called 'the birthplace of California', and with an estimated population of 1.4 million, it is the second-largest city in the state. San Diego is known for its mild year-round climate and natural deep-water harbor. Tourists can enjoy the extensive beaches and proximity to Los Angeles, which is only 120 miles away. And the Mexican border is right around the corner.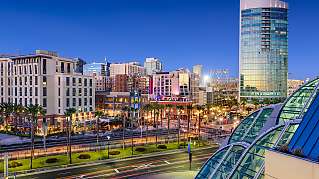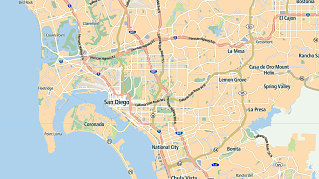 The challenges your drivers & vehicles face in San Diego
No wonder the roads in San Diego can get really busy during rush hour. San Diego is currently ranked #11 as most congested cities in the US according to the TomTom Traffic Index. This traffic congestion cause 27% extra travel time for you (3% increase from last year), and results in 32 minutes of extra driving per day, or about 5 extra days per year!
San Diego Live Traffic Flow⁠
Like many cities, San Diego has a number of residential neigh­bor­hoods and busy recre­ational areas. From Little Italy to the Marina District, in order to maximize the potential of your fleet, it's important to be able to have complete visibility and navigate through busy neigh­bor­hoods like Ocean Beach. Webfleet is here to offer much needed services designed to help you brave the traffic during rush hour and improve efficiency of your fleet in this popular area.
Webfleet
Webfleet
For more than 20 years, our awarded fleet management platform Webfleet, a SaaS solution (Software as a Service), has helped teams to cooperate better. Whether it concerns real-time tracking and tracing, staff management or driving econom­i­cally and safely, more than 60,000 customers in the world make smarter decisions every day with Webfleet. No matter where your drivers are, our fleet management service and products ensure that your team remains connected, support your drivers and help you to increase the general efficiency of your fleet.
With Webfleet you can get started in one day, without IT instal­lation, and you will start saving money immediately.
Request callback⁠
San Diego service area for Fleet Management and Vehicle Tracking
Some of the regions in the metropole of San Diego where Webfleet is active
Coronado

National City

La Presa

La Mesa
Helix

Casa de Oro-Mount

National City

Bonita
Spring Valley

Rancho San Diego
Request a callback to find out how Webfleet can help your business.