Boston, MA
Fleet Management by Webfleet
Your business is unique. Just like your fleet of vehicles. Therefore, you need a flexible fleet management platform: a solution in terms of fleet management, vehicle telematics and connected car services that suit your activities, vehicles, size, budget and location.
Fleet management solution for your fleet in Boston
Are you looking for a fleet management solution in Boston that provides you with real-time information about the location of your vehicles? Do you also want to communicate directly with your drivers, dispatch jobs, improve driving behavior and save on fuel? Our vehicle tracking and Active Driver Feedback help you with this challenge in a busy city like Boston.
Boston – How can you stay efficient in Beantown?
Boston, one of the oldest cities in the US, was founded in 1630. Having been part of the scene of several key events of the American Revolution and other rich historic events, maintains as a main attraction to many tourists, year after year. Also known for its diverse culture, exceptional healthcare and higher education oppor­tu­nities, booming entre­pre­neurship and innovation, ever-changing climate, the famous Fenway Park and The Garden and successful sports teams that play in them, the city is an exciting place to live and visit. Even though Boston has one of the highest costs of living in the United States, it doesn't chase off the people as there is an estimated 667,000 residents within the city, while the Greater Boston area is home to over 8 million people.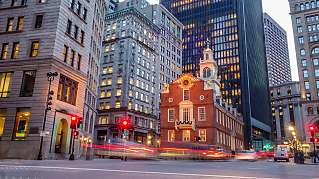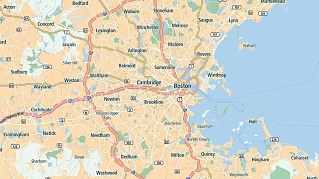 The challenges your drivers & vehicles face in Boston
About a third of residents use some sort of public transit, bicycling, or traveling on foot for their commute to work or school due to the compactness of the city. However, Boston still remains one of the most congested metro areas in the US, as it is currently the #10 ranked most congested city in the US according to the TomTom Traffic Index. This traffic congestion causes 28% extra travel time (3% increase from 2016) for you, and results in 29 minutes of extra driving per day, or about 4 and a half extra days per year! Many thanks are due to the complex, non-grid (except for a couple neigh­bor­hoods) road network, consisting of countless one-way streets, rotaries, road name changes, and continues to be constantly changing.
Boston's live traffic flow⁠
Thus you can see the driving issues facing the visitors, residents and Boston area business owners and drivers on the road every day, not even factoring in the variance in weather with snow/rain and hot/cold throughout the very defined four seasons of year. Is this causing a problem for fleet owners/managers who strive to increase their efficiency? Or could it be since Boston drivers are usually labelled as the worst drivers in the nation? Either way, we are happy to answer all your questions and here to help with solutions to maximize produc­tivity & efficiency.
Webfleet
Webfleet
For more than 20 years, our awarded fleet management platform Webfleet, a SaaS solution (Software as a Service), has helped teams to cooperate better. Whether it concerns real-time tracking and tracing, staff management or driving econom­i­cally and safely, more than 50,000 customers in the world make smarter decisions every day with Webfleet. No matter where your drivers are, our fleet management service and products ensure that your team remains connected, support your drivers and help you to increase the general efficiency of your fleet.
With Webfleet you can get started in one day, without IT instal­lation, and you will start saving money immediately.
Request callback⁠
Boston service area for fleet management and vehicle tracking
Some of the regions in the Boston area where Webfleet is active
Allston

Brighton

Chestnut Hill
Somerville

Cambridge

Medford
Request a callback to find out how Webfleet can help your business.