Phoenix
Fleet Management by Webfleet
Your business is unique. Just like your fleet of vehicles. Therefore, you need a flexible fleet management platform: a solution in terms of fleet management, vehicle telematics and connected car services that suit your activities, vehicles, size, budget and location.
Fleet management solution for your car fleet in Phoenix
Are you looking for a fleet management solution in Phoenix that provides you with real-time information about the location of your vehicles? Do you also want to communicate directly with your drivers, dispatch jobs, improve driving behavior and save on fuel? Our vehicle tracking and Active Driver Feedback help you with this challenge in a busy city like Phoenix.
Phoenix, AZ – The Valley of the Sun
Phoenix is known for being an oasis in the dusty state of Arizona. With over four million people, Phoenix is the most densely populated state capitol in the United States. The area has a rich history of Native American culture and many neigh­bor­hoods like Encanto Palmcroft and Coronado pay tribute to that past. After WWII, Phoenix experienced a boom, and major corpo­ra­tions like Motorola chose to head their companies in the midwest city.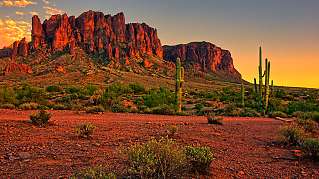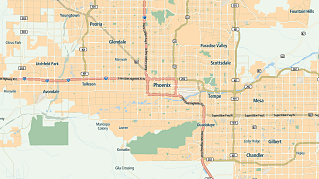 The challenges your drivers & vehicles face in Phoenix
Like most cities, Phoenix is divided into a few residential neigh­bor­hoods and a bustling metropolis. Areas like Eastlake Park, Roosevelt and Willo, represent neigh­bor­hoods that can quickly become congested during business hours while Garfield, FQ Story and Eastlake Park are often easy to navigate. Phoenix doesn't fall very high on the list of most congested cities in the US according to the TomTom Traffic Index. The traffic congestion causes 16% extra travel time for you (1% increase from last year), and results in 20 minutes of extra driving per day, or a little more than 3 extra days per year.
Phoenix live traffic flow⁠
While this seems like not much of an issue up front, try getting around Downtown Core, which represents the heart of the city, and is almost constantly a nightmare for drivers trying to get to jobs or make deliveries. To stay productive and spend less time on the road between various areas, it's imperative that your fleet capitalizes on a fleet management system like Webfleet that provides up-to-the-second updates and helps keep the channel open between your team.
Webfleet
Webfleet
For more than 20 years, our awarded fleet management platform Webfleet, a SaaS solution (Software as a Service), has helped teams to cooperate better. Whether it concerns real-time tracking and tracing, staff management or driving econom­i­cally and safely, more than 50,000 customers in the world make smarter decisions every day with Webfleet. No matter where your drivers are, our fleet management service and products ensure that your team remains connected, support your drivers and help you to increase the general efficiency of your fleet.
With Webfleet you can get started in one day, without IT instal­lation, and you will start saving money immediately.
Request callback⁠
Phoenix service area for Fleet Management and Vehicle Tracking
Some of the regions in the metropole of Phoenix where Webfleet is active
Paradise Valley

Scottsdale

Tempe
Request a callback to find out how Webfleet can help your business.