Seattle
Fleet Management by Webfleet
Your business is unique. Just like your fleet of vehicles. Therefore, you need a flexible fleet management platform: a solution in terms of fleet management, vehicle telematics and connected car services that suit your activities, vehicles, size, budget and location.
Fleet management solution for your car fleet in Seattle
Are you looking for a fleet management solution in Seattle that provides you with real-time information about the location of your vehicles? Do you also want to communicate directly with your drivers, dispatch jobs, improve driving behavior and save on fuel? Our vehicle tracking and Active Driver Feedback help you with this challenge in a busy city like Seattle.
Seattle, WA – The Emerald City
Seattle has a rich history as a cultural hub and its nickname – The Emerald City – derives from the overwhelming beautiful greenery that surrounds the city. It is the largest city in the state of Washington and the Pacific Northwest. Seattle began as a logging town and, like many western cities, experienced a boom during the gold rush. The City is known for its hills, including those running along Broadview and Crown Hill.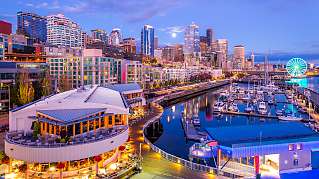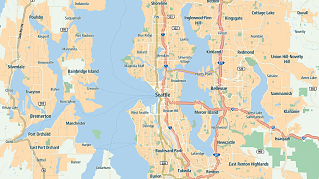 The challenges your drivers & vehicles face in Seattle
Seattle is known for the long periods of rain that seem to never stop and often slow traffic. The city is comprised of a few residential neigh­bor­hoods like Haller Lake, Bitter Lake, North Beach, Greenwood and Pinehurst, while busier areas like North College Park and Northgate easily get backed up during business hours. The city is highly congested day to day as it is currently ranked #4 as most congested cities in the US according to the TomTom Traffic Index. This traffic congestion cause 34% extra travel time for you (3% increase from last year), and results in 40 minutes of extra driving per day, or about 6 and a third extra days per year!
Seattle Live Traffic Flow⁠
Managing a fleet and navigating between these areas requires more than the know-how of a local in order to get avoid traffic due to accidents, job delays and more. Webfleet offers services designed to help you to get more jobs done and stay efficient in the hilly regions along Crown Hill, Broadview and more throughout Seattle.
Webfleet
Webfleet
For more than 20 years, our awarded fleet management platform Webfleet, a SaaS solution (Software as a Service), has helped teams to cooperate better. Whether it concerns real-time tracking and tracing, staff management or driving econom­i­cally and safely, more than 50,000 customers in the world make smarter decisions every day with Webfleet. No matter where your drivers are, our fleet management service and products ensure that your team remains connected, support your drivers and help you to increase the general efficiency of your fleet.
With Webfleet you can get started in one day, without IT instal­lation, and you will start saving money immediately.
Request callback⁠
Seattle service area for Fleet Management and Vehicle Tracking
Some of the regions in the metropole of Seattle where Webfleet is active
Bellevue

Bainbridge Island

Bremerton
Request a callback to find out how Webfleet can help your business.