Atlanta, Georgia
Fleet Management by Webfleet
Your business is unique. Just like your fleet of vehicles. Therefore, you need a flexible fleet management platform: a solution in terms of fleet management, vehicle telematics and connected car services that suit your activities, vehicles, size, budget and location.
Fleet management solution for your fleet in Atlanta
Are you looking for a fleet management solution in Atlanta that provides you with real-time information about the location of your vehicles? Do you also want to communicate directly with your drivers, dispatch jobs, improve driving behavior and save on fuel? Our vehicle tracking and Active Driver Feedback help you with this challenge in a busy city like Atlanta.
Atlanta, the thriving capital city in Georgia
Atlanta has over 450,000 residents, with the metro­politan area consisting of over 4.7 million people. Home to Coca Cola, CNN, Delta Airlines, UPS and Home Depot, Atlanta can boast to have over 10 Fortune 500 companies 'in town' (third after New York and Houston). The American Civil War, Civil Rights Movements, and other historical events, combined with a diverse economy, being host to the 1996 Olympics and the prominence of being the primary trans­portation hub of South­eastern US (via highway, railroad, and Hartsfield–Jackson Atlanta Inter­na­tional Airport being one of the world's busiest airports) have helped build the city to become a national center of commerce it is today. Throw in the largest aquarium in the Western Hemisphere and beautiful botanical garden and you have an exciting city.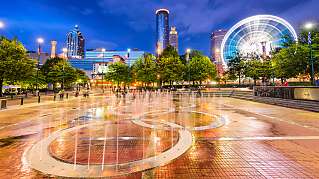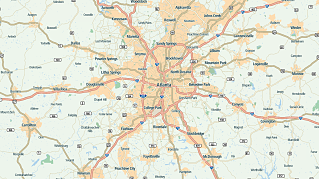 The challenges your drivers & vehicles face in Atlanta
Atlanta's roads are a mix of a vast, complex and tangled network (surrounded by rolling hills and dense tree coverage), where the far right lanes almost always are right turn only. And where Southern hospitality on the road pays off (waving your hand in the rear-view mirror when a motorist has been nice). According to people living in Atlanta, traffic is crazy and the roads are always full. In fact, Atlanta still remains a highly congested metro area in the US, as it is currently ranked #12 as most congested cities in the US according to the TomTom Traffic Index. This traffic congestion causes 27% extra travel time (3% increase from last year) for you, and results in 34 minutes of extra driving per day, or a little more than 5 extra days per year!
Atlanta's live traffic flow⁠
So your drivers could get a little crazy every now and then as well. Which might not contribute to general efficiency overall. Don't let the craziness overwhelm you – we can help keep their heads cool and will bring you back in relaxed mode.
Webfleet
Webfleet
For more than 20 years, our awarded fleet management platform Webfleet, a SaaS solution (Software as a Service), has helped teams to cooperate better. Whether it concerns real-time tracking and tracing, staff management or driving econom­i­cally and safely, more than 60,000 customers in the world make smarter decisions every day with Webfleet. No matter where your drivers are, our fleet management service and products ensure that your team remains connected, support your drivers and help you to increase the general efficiency of your fleet.
With Webfleet you can get started in one day, without IT instal­lation, and you will start saving money immediately.
Request callback⁠
Atlanta service area for fleet management and vehicle tracking
Some of the regions in the metropole of Atlanta where Webfleet is active
Castleberry Hill

Centennial Hill

Fairlie-Poplar district
Five Points

Midtown

Ansley Park
Atlantic Station

Loring Heights
Request a callback to find out how Webfleet can help your business.