Denver
Fleet Management by Webfleet
Your business is unique. Just like your fleet of vehicles. Therefore, you need a flexible fleet management platform: a solution in terms of fleet management, vehicle telematics and connected car services that suit your activities, vehicles, size, budget and location.
Fleet management solution for your car fleet in Denver
Are you looking for a fleet management solution in Denver that provides you with real-time information about the location of your vehicles? Do you also want to communicate directly with your drivers, dispatch jobs, improve driving behavior and save on fuel? Our vehicle tracking and Active Driver Feedback help you with this challenge in a busy city like Denver.
Denver – The Mile High City
Since its inception, Denver has had a wonderful reputation as a diverse city, and in recent years, the population in the city has boomed. Not only is it one of the fastest growing major cities in the country, but also the highest elevation of the major cities across the country. In 2016, the city was even ranked as the best place to live by US News & World Report. Storied suburbs like Mountain View, Glendale, Aurora, Arvada, Edgewater and Mountain View are home to a large number of profes­sionals who work in the city.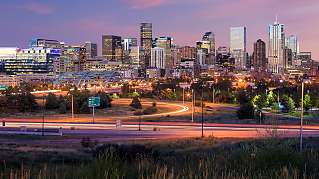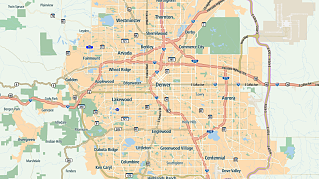 The challenges your drivers & vehicles face in Denver
Like many Midwest cities, Denver is charac­terized by dispersed residential neigh­bor­hoods and a few extremely busy areas. While some areas like Lakewood and Cherry Hills Lakes straddle the line between metro­politan and residential, Twin Lakes is fully in the city. When you think of city, you think of traffic, even in the Mile High City. While Denver is only currently ranked #25 of the most congested cities in the US, according to the TomTom Traffic Index. This traffic congestion still can cause up to 20% extra travel time (1% decrease from last year) for you, which results in 24 minutes of extra driving per day, or about just under 4 extra days per year!
Denver live traffic flow⁠
To maximize the potential of your fleet, it's important to be able to navigate the suburbs like Aurora and Mountain View while still being aware of the traffic in places like Twin Lakes. Webfleet offers a service that allows commu­ni­cation within your fleet to maximize efficiency and minimize time on the road. Don't waste any more time, get on board to see the results start right away!
Webfleet
Webfleet
For more than 20 years, our awarded fleet management platform Webfleet, a SaaS solution (Software as a Service), has helped teams to cooperate better. Whether it concerns real-time tracking and tracing, staff management or driving econom­i­cally and safely, more than 60,000 customers in the world make smarter decisions every day with Webfleet. No matter where your drivers are, our fleet management service and products ensure that your team remains connected, support your drivers and help you to increase the general efficiency of your fleet.
With Webfleet you can get started in one day, without IT instal­lation, and you will start saving money immediately.
Request callback⁠
Denver service area for Fleet Management and Vehicle Tracking
Some of the regions in the metropole of Denver where Webfleet is active
Thornton

Commerce City

Arvada

Englewood
Englewood

Columbine

Centennial

Highlands Ranch
Aurora

Broomfield

Brighton

Boulder
Request a callback to find out how Webfleet can help your business.