Fleet management in Houston, TX
by Webfleet
Your business is unique. Just like your fleet of vehicles. Therefore, you need a flexible fleet management platform: a solution in terms of fleet management, vehicle telematics and connected car services that suit your activities, vehicles, size, budget and location.
Fleet management solution for your car fleet in Houston
Are you looking for a fleet management solution in Houston that provides you with real-time information about the location of your vehicles? Do you also want to communicate directly with your drivers, dispatch jobs, improve driving behavior and save on fuel? Our vehicle tracking and Active Driver Feedback help you with this challenge in a busy city like Houston .
Houston – Gateway to the South and West
Houston, that thriving city in Texas, is the fourth largest city in the nation. Not to mention, the biggest in Texas, and in the entire Southern US. One of the biggest assets of Houston is its infra­structure, with a massive railway and roadway system that links the south, southwest, midwest and west. In addition, Houston has the port of Houston which is the tenth largest port in the world, 3 airports, and a booming employment growth. So, you can see why Houston is a pounding heart of the whole nation.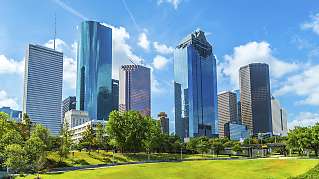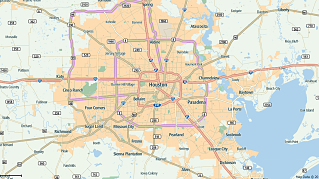 The challenges your drivers & vehicles face in Houston
However, with all this growth and activity, combined with the lack of building new roadways and freeways to upgrade the dated trans­portation capacity infra­structure designed for signif­i­cantly less volume, has caused many problems for drivers in the form of increased traffic, traffic incidents and overall city congestion in Houston. As a result, Houston is ranked 21st in the most congested cities in North America due to traffic according to the TomTom Traffic Index. The city has a 24% increase of extra travel time, which means you spend 32 minutes extra per day, or 121 hours extra per year, driving during morning and evening peak traffic times!
Houston's live traffic flow⁠
To keep an eye on everything that is going on, strive for efficiency, be in touch with your drivers and keep everybody happy … Houston business owners certainly have quite a challenge. Luckily the experts of Webfleet can help you keep an eagle's eye overview of your operations.
Webfleet
Webfleet
For more than 20 years, our awarded fleet management platform Webfleet, a SaaS solution (Software as a Service), has helped teams to cooperate better. Whether it concerns real-time tracking and tracing, staff management or driving econom­i­cally and safely, more than 50,000 customers in the world make smarter decisions every day with Webfleet. No matter where your drivers are, our fleet management service and products ensure that your team remains connected, support your drivers and help you to increase the general efficiency of your fleet.
With Webfleet you can get started in one day, without IT instal­lation, and you will start saving money immediately.
Request callback⁠
Houston service area for fleet management and vehicle tracking
Some of the regions in the metropole of Houston where Webfleet is active
Woodlands

Spring

Cypress

Katy

Humble
Galveston

Lake Jackson

Pearland

Sugar Land

Pasadena
La Porte

Clear Lake

League City

Texas City
Request a callback to find out how Webfleet can help your business.