Los Angeles, CA
Fleet Management by Webfleet
Your business is unique. Just like your fleet of vehicles. Therefore, you need a flexible fleet management platform: a solution in terms of fleet management, vehicle telematics and connected car services that suit your activities, vehicles, size, budget and location.
Fleet management solution for your fleet in Los Angeles
Are you looking for a fleet management solution in Los Angeles that provides you with real-time information about the location of your vehicles? Do you also want to communicate directly with your drivers, dispatch jobs, improve driving behavior and save on fuel? Our vehicle tracking and Active Driver Feedback help you with this challenge in a busy city like Los Angeles.
Los Angeles – Why fleet management could help the traffic nightmare
Los Angeles is one of the best known cities of the United States. Known of course for its industries such as film, leisure and hospitality, fashion, and enter­tainment, including Hollywood. Another attraction is the long beachline of Los Angeles City and County (75 miles from Malibu to Long Beach), famous for its excellent surfing spots.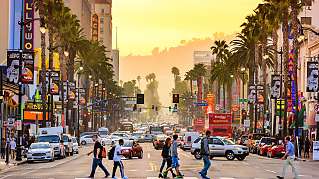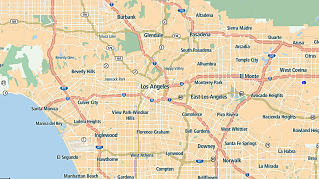 The challenges your drivers & vehicles face in Los Angeles
Even though the tourists come for all the enter­tainment and scenery, the local residents have to deal with the horrendous daily traffic. LA ranks #1 in the US (#12 in the world) for most congested cities according to the TomTom Traffic Index. This traffic congestion causes 45% extra travel time (4% increase from 2016) for you, and results in a whopping 44 minutes of extra driving per day, or a full week (7 days) per year! LA's city design forces people to drive, even with mass transit available, which has continued the steady increase of congestion year after year.
LA's live traffic flow⁠
In addition, Los Angeles is divided into over 80 districts and neigh­bor­hoods, which make it imperative for business owners to be close to their drivers and increase the efficiency of the entire vehicle fleet. We're ready to help you with that.
Webfleet
Webfleet
For more than 20 years, our awarded fleet management platform Webfleet, a SaaS solution (Software as a Service), has helped teams to cooperate better. Whether it concerns real-time tracking and tracing, staff management or driving econom­i­cally and safely, more than 50,000 customers in the world make smarter decisions every day with Webfleet. No matter where your drivers are, our fleet management service and products ensure that your team remains connected, support your drivers and help you to increase the general efficiency of your fleet.
With Webfleet you can get started in one day, without IT instal­lation, and you will start saving money immediately.
Request callback⁠
Los Angeles service area for Fleet Management and Vehicle Tracking
Some of the regions in Los Angeles where Webfleet is active
Santa Monica

Inglewood

Torrance

Long Beach
Lakewood

Downey

El Monte

Glendale
Request a callback to find out how Webfleet can help your business.