Miami, FL
Fleet Management by Webfleet
Your business is unique. Just like your fleet of vehicles. Therefore, you need a flexible fleet management platform: a solution in terms of fleet management, vehicle telematics and connected car services that suit your activities, vehicles, size, budget and location.
Fleet management solution for your car fleet in Miami
Are you looking for a fleet management solution in Miami that provides you with real-time information about the location of your vehicles? Do you also want to communicate directly with your drivers, dispatch jobs, improve driving behavior and save on fuel? Our vehicle tracking and Active Driver Feedback help you with this challenge in a busy city like Miami.
Miami – A subtropical paradise for business owners with a fleet?
As a seaport city in the south­eastern corner of Florida with the second largest population in south­eastern United States, and eighth largest in the entire country, Miami is a very popular city. Miami is considered "heaven on earth" for more than 10 million tourists annually due to the tropical monsoon climate with a drier winter season and popular desti­na­tions like Miami Beach. Some like to describe it as "perfect weather" year-round, however, there is the high humidity and afternoon thunder­storms throughout the summer, with hurricane season that can cause trouble from June 1 through November 30.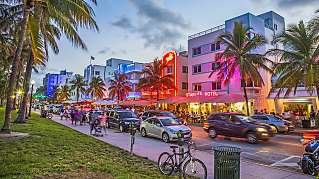 While most know Miami for the tourist attractions and weather, most don't realize it plays such an important role in finance, commerce, culture, enter­tainment and inter­na­tional trade. Miami's Biscayne harbor is the biggest one for cruise ships in the world and a major spot for cargo in the United States. The Port of Miami continues to be the number one cruise passenger port in the world, and is noted the busiest port in both passenger traffic and cruise lines. The city also has the third tallest skyline in the country due to a large concen­tration of inter­na­tional banks and national/inter­na­tional companies.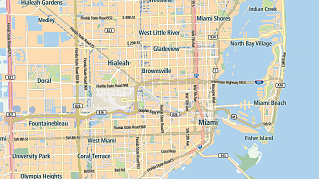 The challenges your drivers & vehicles face in Miami
Even though the majority of streets and avenues in Miami-Dade County follow the Miami Grid, the city still remains one of the most highly congested metro areas, as it is currently ranked #6 as most congested cities in the US according to the TomTom Traffic Index. This traffic congestion causes 30% extra travel time (2% increase from last year) for you, and results in 35 minutes of extra driving per day, or 5 and a half extra days per year! In addition, Miami has a bad reputation of having rude drivers and is consis­tently ranked as one of the most dangerous cities in the countries for pedestrians.
Miami live traffic flow⁠
Only one ride in a cab and you realize highways through and around the city are there for high speed. With the fact that Miami's streets are crowded with cars, provides a challenge not only to pedestrians but also to the managers of fleets, as the hassle in the long avenues looks somewhat like streetcar racing. Not to worry though… we have been there and done that and are glad to help you out.
Webfleet
Webfleet
For more than 20 years, our awarded fleet management platform Webfleet, a SaaS solution (Software as a Service), has helped teams to cooperate better. Whether it concerns real-time tracking and tracing, staff management or driving econom­i­cally and safely, more than 50,000 customers in the world make smarter decisions every day with Webfleet. No matter where your drivers are, our fleet management service and products ensure that your team remains connected, support your drivers and help you to increase the general efficiency of your fleet.
With Webfleet you can get started in one day, without IT instal­lation, and you will start saving money immediately.
Request callback⁠
Miami service area for Fleet Management and Vehicle Tracking
Some of the regions in greater Miami where Webfleet is active
Allapattah

Brickell

Buena Vista

Civic Center
Coconut Grove

Coral Way

Design District

Downtown Miami
Edgewater

Flagami

Grapeland
Request a callback to find out how Webfleet can help your business.