Fleet management in New York City, NY
by Webfleet
Your business is unique. Just like your fleet of vehicles. Therefore, you need a flexible fleet management platform: a solution in terms of fleet management, vehicle telematics and connected car services that suit your activities, vehicles, size, budget and location.
Fleet management solution for your fleet in New York City
Are you looking for a fleet management solution in New York City that provides you with real-time information about the location of your vehicles? Do you also want to communicate directly with your drivers, dispatch jobs, improve driving behavior and save on fuel? Our vehicle tracking and Active Driver Feedback help you with this challenge in a busy city like NYC.
New York City – How does your fleet navigate through the city that never sleeps?
New York City is the largest city in the US, and one of the largest urban areas in the world. It is so densely populated, with more than 9.5 million residents in an area of about 302 sq. miles, just from the looks; it seems jam packed every moment of the day. This is due to the popular, influential and leading role it has in trade, finance, economy, media, art, fashion and education, so it is considered one of the most important cities in the world. In addition, the city has such a wide array of attractions, enter­tainment, landmarks including: the Statue of Liberty, Central Park (most visited city park in the country), Flushing Meadows-Corona Park, Times Square, Wall Street, Rockefeller Center, Broadway Theater District and more. This draws in millions of tourists, on top of a metro region already considered the most populated in the country.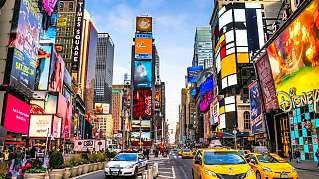 The challenges your drivers & vehicles face in New York City
Originally designed with a grid plan, NYC has evolved its road infra­structure to build growth. Now there's a crazy web of expressways, parkways, bridges & tunnels that link the city's five boroughs (Brooklyn, Queens, Manhattan, The Bronx, and Staten Island), northern New Jersey, Long Island, and south­western Connecticut and serve millions of commuters causing daily traffic jams. Even with the heavy reliance on public transit, NYC remains one of the most congested cities in the US year after year, as it is currently ranked #3 according to the TomTom Traffic Index. This traffic congestion causes 35% extra travel time (2% increase from last year) for you, and results in 34 minutes of extra driving per day, or a little more than 5 extra days per year!
New York City Live Traffic Flow⁠
Business owners with a fleet of vehicles have a huge challenge to stay in the vicinity of their drivers and increase the general efficiency of the fleet. Whether it's the commuters on the road, countless taxis and ride sharing services, pedistrians crossing inter­sec­tions, one-way streets or parking issues, the barriers to produc­tivity are always there in NYC. That's why we're here to gladly help you with optimal efficient solutions.
Webfleet
Webfleet
For more than 20 years, our awarded fleet management platform Webfleet, a SaaS solution (Software as a Service), has helped teams to cooperate better. Whether it concerns real-time tracking and tracing, staff management or driving econom­i­cally and safely, more than 50,000 customers in the world make smarter decisions every day with Webfleet. No matter where your drivers are, our fleet management service and products ensure that your team remains connected, support your drivers and help you to increase the general efficiency of your fleet.
With Webfleet you can get started in one day, without IT instal­lation, and you will start saving money immediately.
Request callback⁠
New York City service area for Fleet Management and Vehicle Tracking
Some of the regions in the New York City area where Webfleet is active
Manhattan

Midtown

Brooklyn

Bronx

Queens

Staten Island
Flushing

Greenwich

Hempstead

Freeport

Long Beach

Perth Amboy
Woodbridge

Linden

Montclair

Clifton

Yonkers

New Rochelle
Request a callback to find out how Webfleet can help your business.