Philadelphia, PA area
Fleet Management by Webfleet
Your business is unique. Just like your fleet of vehicles. Therefore, you need a flexible fleet management platform: a solution in terms of fleet management, vehicle telematics and connected car services that suit your activities, vehicles, size, budget and location.
Fleet management solution for your car fleet in Philadelphia
Are you looking for a fleet management solution in Philadelphia that provides you with real-time information about the location of your vehicles? Do you also want to communicate directly with your drivers, dispatch jobs, improve driving behavior and save on fuel? Our vehicle tracking and Active Driver Feedback help you with this challenge in a busy city like Philadelphia.
Philadelphia – Why fleet management is important for business owners in the City of Brotherly Love?
Philadelphia is the largest city and capital in Pennsyl­vania, and has over 1.5 million people living there making it the fifth largest population in the US. Meanwhile, the Delaware Valley metro region adds almost 6 million to that number.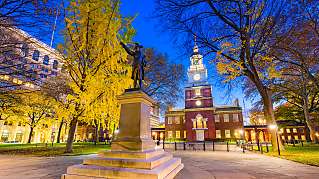 The primary industries include informatics, oil refinery, manufac­turing of food, health care, biotech­nology, tourism and financial services. The city's arts, culture, and rich history provide millions of tourists plenty of attractions throughout the year. Also, the city is known for its hard working people, which only intensifies as the city is the birthplace of the United States Marine Corps.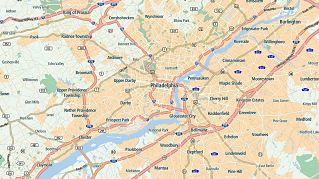 The challenges your drivers & vehicles face in Philadelphia
Philadelphia's neigh­bor­hoods consist of North, Northeast, Northwest, West, South and Southwest Philadelphia sections. A number of highways cut these neigh­bor­hoods into square pieces forming a grid of long straight streets that run east-west and north-south in the Center City. Even though the city is considered a very walkable major city of the US, it still remains a congested metro area with traffic, as it is currently ranked #21 as most congested cities in the US according to the TomTom Traffic Index. This traffic congestion cause 23% extra travel time for you, and results in 26 minutes of extra driving per day, or a little more than 4 extra days per year! Quite a situation for fleet managers, but we will help you to make sense of it all.
Philadelphia's Live Traffic Flow⁠
Webfleet
Webfleet
For more than 20 years, our awarded fleet management platform Webfleet, a SaaS solution (Software as a Service), has helped teams to cooperate better. Whether it concerns real-time tracking and tracing, staff management or driving econom­i­cally and safely, more than 50,000 customers in the world make smarter decisions every day with Webfleet. No matter where your drivers are, our fleet management service and products ensure that your team remains connected, support your drivers and help you to increase the general efficiency of your fleet.
With Webfleet you can get started in one day, without IT instal­lation, and you will start saving money immediately.
Request callback⁠
Philadelphia service area for Fleet Management and Vehicle Tracking
Some of the regions in the Delaware Valley where Webfleet is active
South Philadelphia

Southwest Philadelphia

West Philadelphia

Lower North Philadelphia
Upper North Philadelphia

Near Northeast Philadelphia

Brides­burg-Kens­ing­ton-Richmond

Roxbor­ough-Manayunk
German­town-Ch­estnut Hill

Olney-Oak Lane
Request a callback to find out how Webfleet can help your business.