San Francisco
Fleet Management by Webfleet
Your business is unique. Just like your fleet of vehicles. Therefore, you need a flexible fleet management platform: a solution in terms of fleet management, vehicle telematics and connected car services that suit your activities, vehicles, size, budget and location.
Fleet management solution for your car fleet in San Francisco
Are you looking for a fleet management solution in San Francisco that provides you with real-time information about the location of your vehicles? Do you also want to communicate directly with your drivers, dispatch jobs, improve driving behavior and save on fuel? Our vehicle tracking and Active Driver Feedback help you with this challenge in a busy city like San Francisco.
San Francisco – The Golden City
San Francisco has a storied history as one of the unique cities in California, and though The City is consid­erably smaller than the southern Los Angeles, the culture and tradition is rich. As the headquarters of many major banks and companies including Levi Strauss & Co., Gap Inc., Salesforce.com, Dropbox, Airbnb, Yelp, Pinterest, Twitter, Uber, Lyft, and Mozilla, plus with companies such as Apple & Google driving Silicon Valley, San Francisco has experienced a huge tech, entre­pre­neurship and popularity boom. Best known for the cool summers, fog, steep rolling hills and archi­tecture, and top livability rankings, the variations and love for the city remain high. Not to mention the beautiful landmarks of The Golden Gate Bridge, cable cars, Alcatraz, Fisherman's Wharf, and the Chinatown district bring in numerous tourists year in and year out.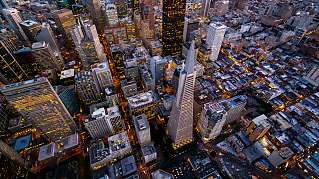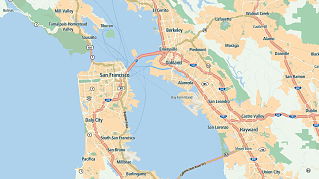 The challenges your drivers & vehicles face in San Francisco
After New York City, San Francisco is the most densely populated city in the United States, which causes congestion in traffic and has forced fleets to get creative with their routes. It's no wonder that San Francisco remains as the #2 ranked as most congested cities in the US according to the TomTom Traffic Index. This traffic congestion causes 39% extra travel time (3% increase from last year) for you, and results in 39 minutes of extra driving per day, or 6 and a quarter extra days per year!
San Francisco's Live Traffic Flow⁠
Webfleet offers interactive alter­na­tives to stagnant maps and predicts traffic patterns in areas like Fisherman's Wharf, Central Market and North Beach, which have a tendency to bear the brunt of rush hour traffic. In the Bay, Treasure Island is dominated by narrow roads, and while the affluent Noe Valley enjoys a well-con­structed grid system, the roads are often bumper-to-bumper with commuters on their way to and from work. As a business owner with a fleet this can lead to lots of headaches, that's why we're here to ease the pain and get you back on track.
Webfleet
Webfleet
For more than 20 years, our awarded fleet management platform Webfleet, a SaaS solution (Software as a Service), has helped teams to cooperate better. Whether it concerns real-time tracking and tracing, staff management or driving econom­i­cally and safely, more than 50,000 customers in the world make smarter decisions every day with Webfleet. No matter where your drivers are, our fleet management service and products ensure that your team remains connected, support your drivers and help you to increase the general efficiency of your fleet.
With Webfleet you can get started in one day, without IT instal­lation, and you will start saving money immediately.
Request callback⁠
San Francisco service area for Fleet Management and Vehicle Tracking
Some of the regions in the metropole of San Francisco where Webfleet is active
Daly City

San Bruno

Tiburon
Request a callback to find out how Webfleet can help your business.